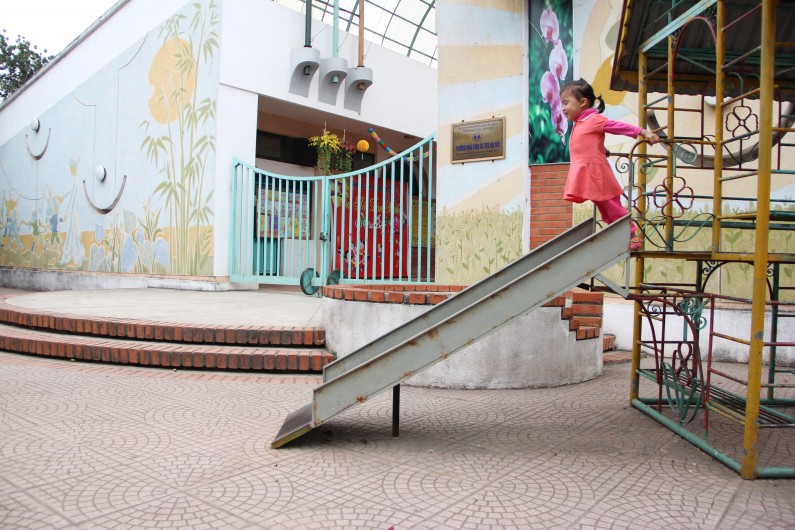 Fishing for dreams
Give a man a fish and he will eat for a day. Teach a man to fish, and he will eat for a lifetime. To the disadvantaged youth of Vietnam, this aphorism could mean the difference between destitution and their dreams. However, naïve tourists are standing in the way.
Picture this. You're sitting outside a café in Vietnam when a young girl selling bracelets approaches you. She can't be more than five or six, and she appears to be completely alone. She confidently picks up your phone, and in an all too familiar manner, types: "if you buy from me, I will go to school." You are confronted by both her tenacity and poverty in the same moment. As she looks at you with hungry eyes and presents her goods, you are faced with a moral dilemma, should you give her the 'fish'?
Kim Miller, the School Liaison Officer at the Blue Dragon Children's Foundation, has the answer.
"I would never buy from a street vendor child," she says. "You don't know what you're facilitating by giving them money. You may be enabling a pimp or encouraging the child's parents to keep them working on the streets, rather than sending them to school."
Miller says that many of these children are trafficked out of the countryside and forced into street labour by pimps.
"The children who are trafficked into forced labour don't escape," she says. "They are told that they'll be paid at the end of two years, or that if they run away they will be beaten and their family will owe money for their accommodation, food and transport costs."
Parents allow their children to be trafficked because they think they're doing the right thing.
"These parents are told that their children are going on a scholarship, and that they will receive an education and maybe work a couple of hours each day. But the reality is that they're out on the street, all day everyday, selling flowers or fans or bracelets or gum," she says.
Miller believes that the best way to help these children is to be a child safe traveller and refrain from perpetuating their detrimental lifestyle.
"If you really want to help, the best thing to do is donate to a charity, like Blue Dragon, which is dedicated to improving the lives of these children," she says.
In Vietnam, there are a number of organisations working to help the disadvantaged youth. These organisations offer the children accommodation, food, education, counsellors, social workers and a family. However, an organisation that truly embraces the 'fishing' proverb is KOTO.
KOTO, which stands for "Know One, Teach One", is a social enterprise aiming to provide disadvantaged youths with the opportunity to improve their lives. In addition to providing them with accommodation, food and an education, students are taught service skills, cuisine preparation and hospitality management over a 24-month program.
Tom, whose name has been changed for privacy concerns, is the assistant restaurant manager at the KOTO restaurant in Ho Chi Minh City, and a former KOTO graduate.
"Before KOTO, I was living in a disadvantaged family. My mother passed away when I was nine, and my father didn't care for us. He didn't give us love and care like a family. I was living without my dream, without my belief, without faith. Before I came to KOTO, I was living an unhappy life" he says
Tom confesses that his brother used to give money to disadvantaged street children; however found that ultimately, it was detrimental.
"My big brother used to help disadvantaged children like us by giving them money. But he found that is wasn't a real help everyday. They spend it, and it's finished. He found that the best thing to give them, is to give them a job", he says.
This is exactly what KOTO does. Following the 24-month program, graduates are offered gainful employment at the KOTO restaurant and other esteemed businesses around the world.
"From the first time I came here, I got the chance to learn about life skills, English and technical skills. Before I could do none of this. During the two years of progress, I can now speak English with foreign people, I feel more confident, I feel more motivated and I have dreams," says Tom.
After graduating from the KOTO program, Tom spent a year working in a five star hotel in Abu Dhabi. He then returned home to work as the assistant restaurant manager at KOTO in Ho Chi Minh. He hopes to progress his career further by climbing the ranks in the KOTO organisation.
"In the future, my dream is to improve my career higher. Like to restaurant manager and more," he says.
In the true KOTO spirit, Tom also endeavours to pass on his knowledge and skills to other KOTO students, so that they may find the same success as him.
So… you're still sitting in that café, the young girl pleading for you to buy her goods. What do you do? One dollar is nothing to you… But will it really help her? What are you enabling by giving her money? Do you even know? If the answer is no, then you should refrain from opening your wallet.
The next time you're in Vietnam and a child begs you for a 'fish', ask yourself how you can help them make a 'fishing rod'. Often there is an organisation that has already found the answer. Donate your dollar to them instead.
To read more about being a child safe traveller, please visit http://childsafetourism.org/