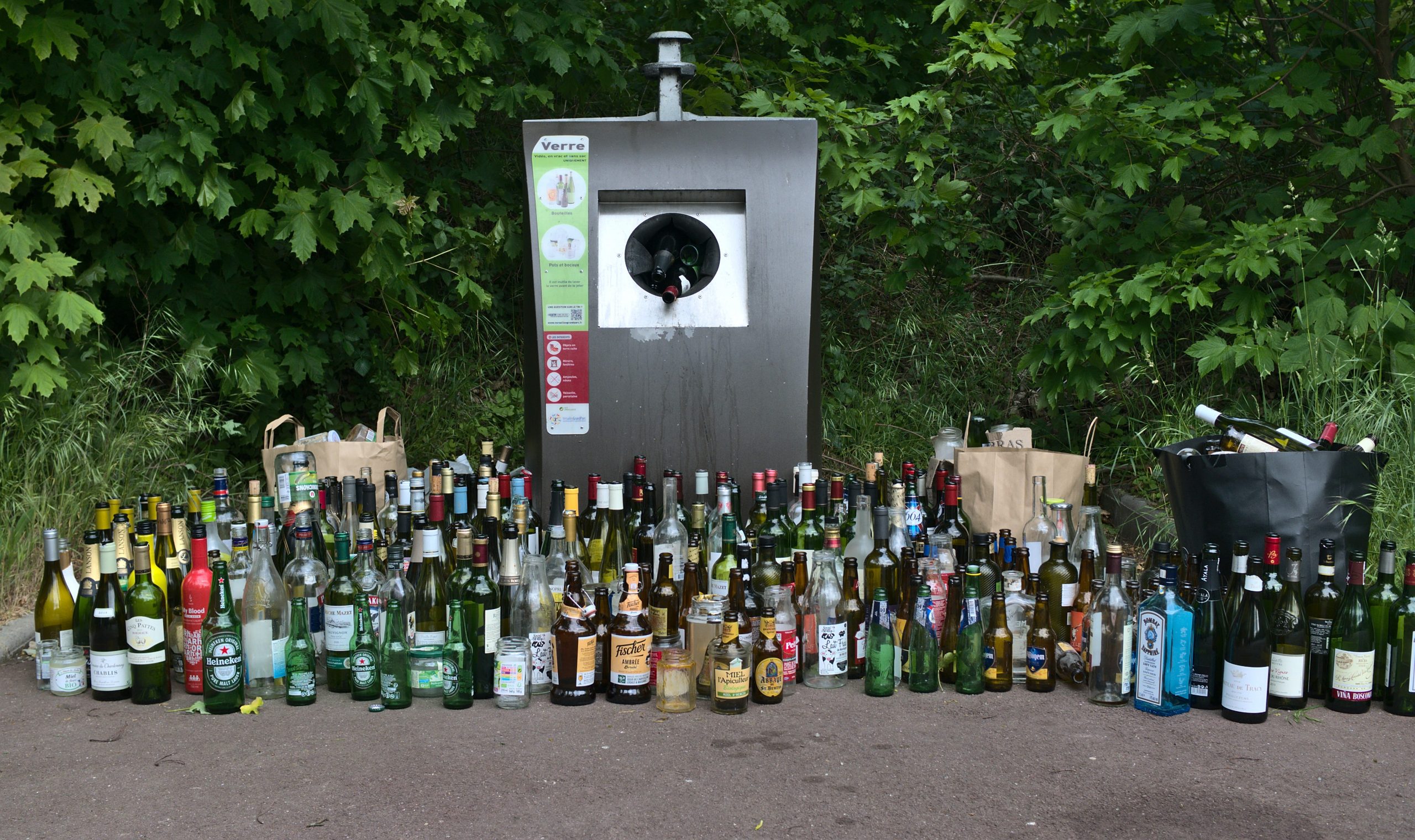 Gambling for Good
Gambling for Good
How four poker buddies turned their love for competition into an environmental initiative
By Brendan Huehne
In 2018, my three best mates and I packed our bags and left our tiny country-town of Mareeba in Far North Queensland, travelling to Brisbane to embark on our adult lives.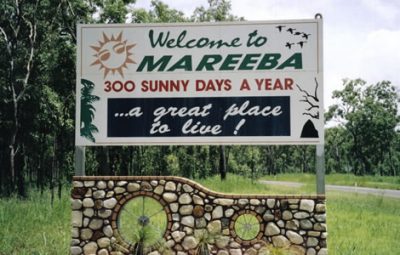 As means of maximising what little money we had, we moved in together into a humble old Queenslander- the cheapest accommodation we could find that was still in close enough proximity to our university.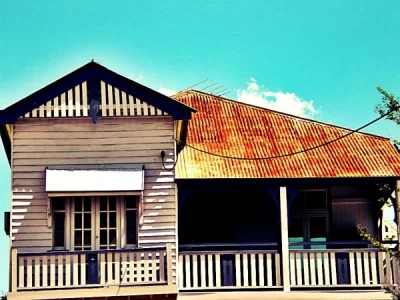 Since we were young, my best mates and I shared very little in common, and we clashed very often because of this. As we moved in together, we very quickly realised that a lack of a petty argument during any day within our home was extremely unusual. From things like "who-ate-who's special Tim Tams?", over to "who keeps leaving skid marks in the toilet?"; we argued about everything and everything.
Every Saturday evening however, the four of us would set our differences aside and unite within our stuffy living room to engage in our weekly share-house poker tournament. On this night of every week, the members of our home come together, forgetting about all of our ongoing arguments to engage in a friendly yet competitive game of good-old-fashioned Texas Hold Em' Poker.
Despite this, it was not a love for the game itself that united us, as none of us were very good at it. It was merely a love for competition. We all thoroughly enjoyed competing against each other through a game facilitated under equal odds and personal skill.
An environmental realisation
Upon starting a university course in my most recent semester that focused on utilising public relations tactics for environmental change (COMU3130), I started considering and assessing the environmental performance of my household.
None our household members ever considered our individual and collective contributions towards sustainability, and because of this our performance was extremely poor. We didn't recycle or separate our waste; we weren't conscious of our water usage; and we often left our lights on when leaving the house.
Moreover, I began to feel guilty for my lack of environmental contributions and was inspired to make a real change. I felt the best way to maximise this change, was not only to change my personal habits but also to inspire others to the same.
As means of doing so, I proposed the idea of collectively making changes to environmental habits to my housemates on a Saturday Poker Night. We all expressed a keen interest in doing so, however felt simple habit changes such as "turning the lights of before leaving the house", and "taking shorter showers" may work for a few weeks; however, they did not provide enough motivation for us to continue in the long term. This collective realisation, and simultaneous engagement in poker, sparked a strong environmental idea: implementing a competition for sustainable action.
The Green Gambler's Game
From the idea's establishment, all of us were extremely keen on it. We spent the rest of that evening collaboratively creating "The Green Gambler's Game"- a game that would allow us to compete against each other through our individual environmental contributions. The rules of the game are displayed below.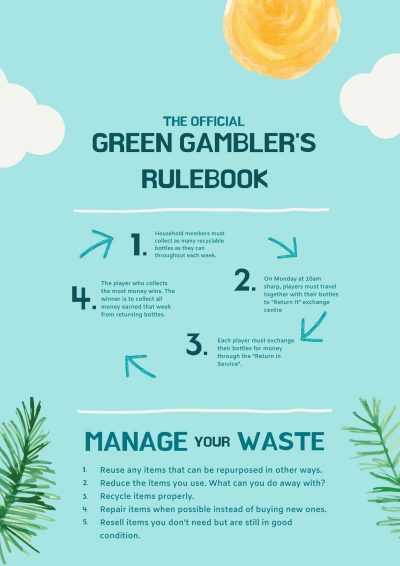 The game was simple. The four of us competed for a cash prize to see who could save and collect the most recyclable bottles at the end of each week.
On Monday mornings at 10am, we all got together and travelled to the closest Return-It Depot Available. The service allowed us each to exchange our bottles for cash, at a rate of 10 cents per bottle. Follow this link to read more about the service: https://www.returnit.com.au/qld/
Determining the winner was simple: the person who collected the most money from their individual collections won. This winner not only got the amazing prize of being classified as "better than everyone else in the house", but also got to keep the money collected from each person through the Return-It service.
We played the game weekly, all throughout the month of September. Each week, we grew more and more invested in the game, striving to beat the previous weeks winner's bottle count. Consequently, our total bottles collected increased at a perpetual rate each week (see table below).
| | | | |
| --- | --- | --- | --- |
| Week 1 | Week 2 | Week 3 | Week 4 |
| 43 bottles | 49 bottles | 74 bottles | 82 bottles |
Admittedly, for me, the money and competition were initially the main motivators for my environmental contribution.
However, as I reflected upon our results at the end of September, I realized my perception towards sustainable action had changed dramatically.
Upon starting the game, I always perceived taking action towards sustainability as mundane and strenuous. I believe this is why I always neglected to put effort into it.
As I played the game with my mates, I quickly realized how it could be extremely fun and competitive when doing it through a game method. Having competitive goals, as well as a financial incentive for environmental action motivated us all and even inspired progressive improvement.
Now, myself and my housemates are in the process of drafting our next enviro-game!
I highly encourage anyone living in shared accommodation, or even with your families to try this game out! Simply use our instructions (above), and play away.
Overall, I appreciate this experience beyond measure, as it has helped me become a more environmentally conscious person and has inspired my friends to do the same.
I hope this blog and story expresses the true change I have experienced, and inspires others to take on the same change as well.