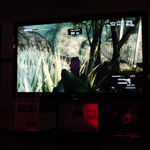 Games industry set to hit new heights
The games industry has long played second fiddle to larger entertainment industries like films and music, but it hasn't looked back since drastically outpacing both of them in growth in 2007.
Gaming takes off as a popular culture
Twenty-one year-old Jeremy Peres is parked in front of the TV in his room, surrounded by the many gaming posters adorning his walls, wholly focused on the newly released Xbox 360 game, Dark Souls. He will spend the next four hours trying to regain the humanity of his gaming character, something he's been working on for the past three days. He estimates that it will take another 20 hours to carve his way through the game before he completes his quest.
Society has attached a stigma to gaming addictions following reports of deaths of hardcore gamers due to exhaustion from hours of non-stop game play. However, a national research prepared by Bond University in conjunction with the Interactive Games & Entertainment Association has found this to be a worldwide knee-jerk reaction. According to DA12, gamers tend to average between half an hour to an hour of game play each night, with Mr Peres making up part of the 3 per cent who play for five hours or more per session.
Mr Peres claims he has never had a collapsing incident after excessive gaming, and rejects suggestions that he is overdoing it. While he acknowledges that he, like many hardcore gamers, spend majority of their free time clutching gaming controllers and mice, it is clear a nerve has been touched slightly when he looks up from his game to refute suggestions that many gamers suffer from an addiction to their hobby.
"The media's portrayal of the gaming industry is ridiculous. Gamers are generally considered social outcasts, immature, lacking in hygiene or manners, and stereotypical 'nerds'. These are generally untrue most gamers are just normal people who enjoy video games," he said.
Mr Peres sees nothing wrong with getting his dose of social interaction directly and indirectly through the screen, engaging in frequent gaming sessions in a multiplayer environment or with a group of friends in his home. However, it seems bending to social norms means that introverts or those with an indoor hobby like Mr Peres are frequently told to "get a life" by those with more sociable habits. Hinting that a culture exists within the gaming community, Mr Peres said that the ingrained behaviours exhibited by gamers had bonded them. "Certain aspects of our mannerisms and the way we think are common within the group," he said.
With stacks of games in the corner and gaming consoles strewn across the floor, Mr Peres spends roughly $100 on gaming paraphernalia every couple of months, more if the timings of new game releases happen to coincide. A recent graduate from Griffith University currently undergoing unpaid work experience as a student-teacher, he justifies the expenditure by replaying completed games multiple times. "I try to get the most out of the game, and it is a rewarding experience each time as the game play is constantly changing," he said.
Mr Peres is contributing to the consumption of games media and entertainment that enabled an Australian games industry forecast of $2.5 billion by 2015, and a corresponding global interactive game market of $90.1 billion. This makes gaming one of the largest entertainment industries in the world, undoubtedly helped by a boom in casual gaming on platforms like Facebook, with industry forerunner Zynga posting a skyscraper $850 million USD in revenue last year.
"As watered down as they are, there're a lot of common elements between regular games and casual games," said Mr Peres. "You might think it takes nothing to harvest crops and tend to farm animals, but the addiction value of that is scarily immense."
With 92 per cent of Australian households owning at least one gaming device, it is undeniable that games are an extremely prevalent form of mainstream entertainment. In spite of that, the nation has yet to reach the level of other countries such as South Korea, which boasts several dedicated Starcraft TV channels, or the USA where reality TV shows such as World Cyber Games Ultimate Gamer vie gamers against one another for glory.
A recent update to Australia's games classification, however, may propel its industry in that direction. The new R18+ rating has been well accepted by the gaming community that has an average age of 32. Mr Peres is glad that a change had been instituted, as he believes it is a common misconception that gaming is a childish activity. "It was silly to deny letting specific games into the country because they were too mature," he said. "The excuse that children might be desensitised because of these games was also absurd, because they were marketed to adults."
Considering the predominant age of gamers, this move should see an increase in profits in the Australian market, giving credence to adult gamers who might have been under pressure to outgrow their hobby. If these trends continue, the gaming community will almost certainly experience an expansion over the next few years, undoubtedly bringing cheer to the local industry.