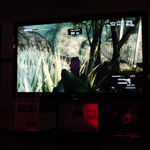 Games industry set to hit new heights
The games industry has long played second fiddle to larger entertainment industries like films and music, but it hasn't looked back since drastically outpacing both of them in growth in 2007.
[media-credit id=63 align="aligncenter" width="590″]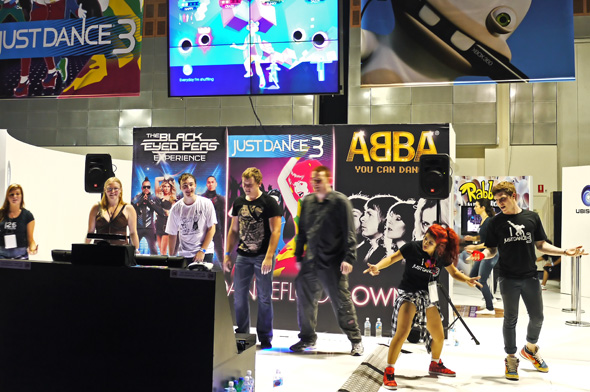 [/media-credit]
Gaming enthusiasts trying out a dance game at the EB Expo 2011
The games industry has long played second fiddle to larger entertainment industries like films and music, but it hasn't looked back since drastically outpacing both of them in growth in 2007.
According to PricewaterhouseCooper's (PWC) 2008 Global and Entertainment and Media Outlook report, gaming is expected to be a $68 billion industry by 2012, overtaking the film and music industries. Even more staggering is the prediction that, by 2015, the industry will have jumped again to $90.1 billion.
Dr Jeffrey Brand from Bond University, author of the Digital Australia 2012 report, research prepared by Bond University in conjunction with the Interactive Games & Entertainment Association, suggests that games and gaming culture have now become mainstream in Australia.
He said that games were becoming a common, accepted part of our media. "Just look at the growth of female gamers: quite simply, female gamers have begun to set the content agenda, and I think they will do so with greater effect in the coming decade. More content, more accessible platforms and more social facilities in games has given the games market a welcome force," said Dr Brand.
According to DA12, a report into video games in Australia, the number of homes with gaming devices has risen to 92 per cent with the average adult gaming having played games for around 12 years. Although sales for both console and online games are both set to see massive increases, the latter is expected to generate $14.4 billion internationally next year – 40 per cent of traditional console gaming – an astounding figure for a market that has just begun to take off.
This growth is supported by the current trend in Australia's gaming market. Despite the shut down of several Brisbane-based game companies such as Krome Studios and THQ, Creative Director at 3Blokes, John Passfield, believes it is a shift, not a downturn, that is occurring in the gaming industry. "Companies should have been aware of it and adapted accordingly," he said. "We need to start looking at what's up next."
What is next, in the eyes of many, is a move from larger traditional platforms to social media and iPhone applications. Morgan Jaffit, Creative Director at Defiant Development said, "The AAA industry is the same size, with more profits. It's just not seeing as fast growth as the social media."
With the success of games like Angry Birds for the iPhone and Farmville for Facebook, larger companies have begun to realise the potential in these platforms. Many, like long-time developer EA, seem to have hit the right formula by jumping on the bandwagon and repackaging their products for a social setting as a new means of income.
Mr Jaffit believes that Australia is a country with an increasing amount of talent in the gaming industry and remains positive about the industry's future. "The whole pursuit is on an upward trend, and Australian projections see an enormous range… Australia has a strong reputation," said Mr Jaffit. "We'll be in a position of growth over the next three to four years. Though many Australian programmers move overseas to be trained, many return with their skills to work on local projects." PWC has supported his views so far, with a prediction that the local gaming industry would reach $2.5 billion by 2015.
If Australia's first EB Games Expo earlier this month was any thing to go by, the industry is unlikely to fall short of that prediction. A maximum capacity of 15,000 patrons over three sessions at the Gold Coast Exhibition Centre indulged in showcases by industry bigwigs such as 2K, Capcom, Ubisoft, EA, and Bethesda. Those in line for demo units like Arkham City, Mass Effect 3, and Skyrim – viewed on a massive curtained-off screen – saw a wait of over an hour, with palpable excitement as patrons neared the finish.
Ken Sceele, an organiser of the EB Expo, said he was not surprised at the industry's $68 billion global projection. "At the moment and at the rate at which everything is going, I'd say that's a fair call," he said. "And if the games themselves being developed are meeting the demands of the gamers, it can definitely happen."
Following the success on the Gold Coast, plans for a second EB Games Expo to be held in Sydney next year are being put into action. This show of the strength of Australia's gaming culture is certainly a reinforcement of the current predicted trends in the industry.
With the way the games industry and culture is growing within the nation, it might not be too long before Australia sees its own variations of gaming in other mainstream media.