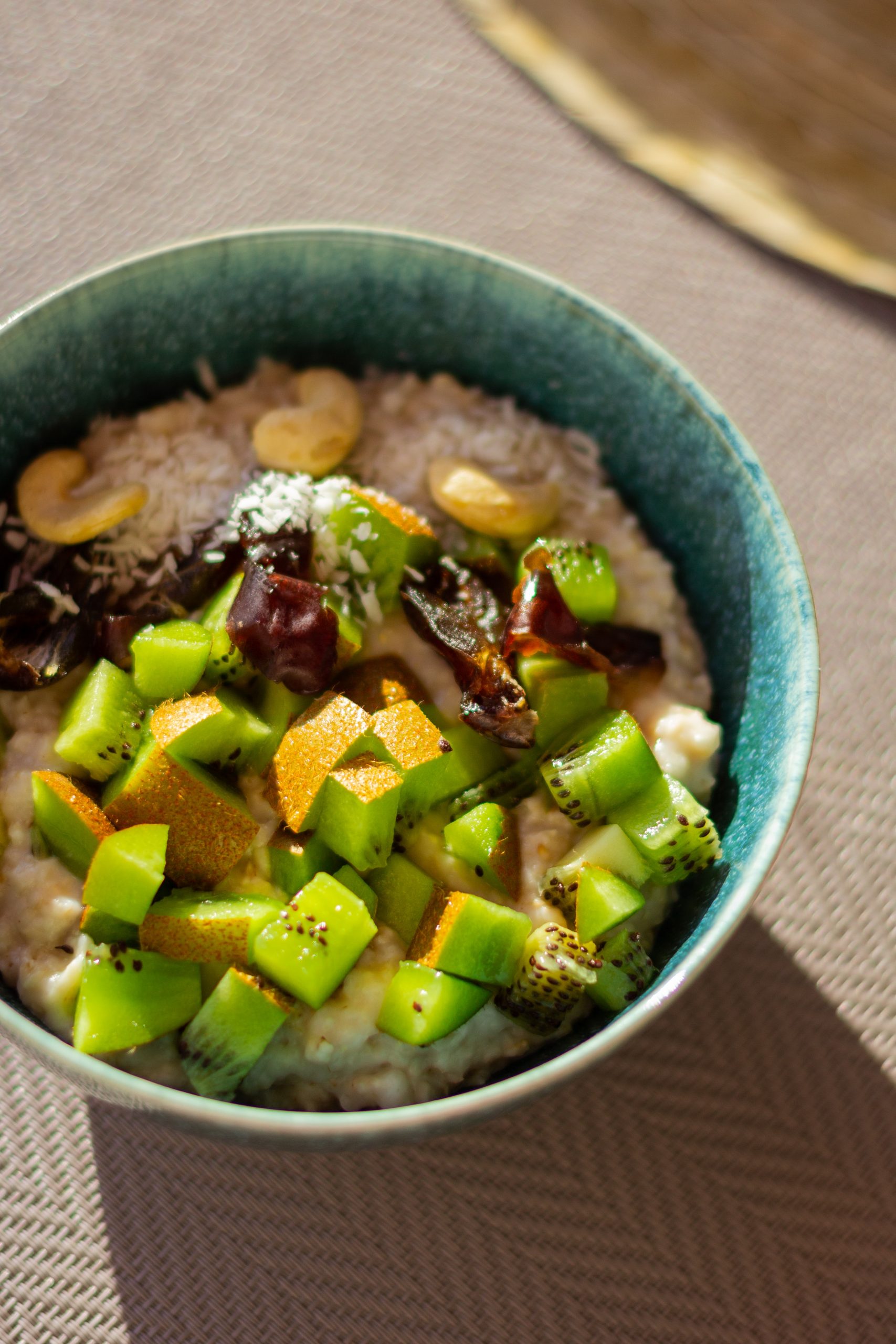 Here's My Take on Sustainable Eating
I grew up in Penang, also called  the food heaven of Malaysia. If you ask anyone in Malaysia about Penang they would say that they love the food there. A literal paradise for a foodie like me. Growing up in Malaysia, the discussion about sustainability is not very big or celebrated by the society, so I was not made aware of what sustainability is till I came here to Australia. It really opened my eyes about how big the issue of being sustainable here is, so one way or another you will get exposed.
So, one day I sat on my bed and thought "Hmm… how can I practice sustainability in my own way." I wanted something that I can practice every day slowly and not feel pressured about it. Then it came to me, I am a big foodie and the discussion of sustainable eating is not much touched upon by the people surrounding me here or back in Malaysia in fact. Then I thought it is the perfect idea and that brings me here today. I want to share with everyone my experience and my small steps into eating more sustainably with a hint of Malaysian culture.
So en route to my discovery of sustainable eating, there was a lot of searching up and reading that took place and a definitely a lot of hit and miss in the first few weeks of trying it. Initially, I started this whole idea of sustainable eating by watching videos and following exactly what those people in the videos are doing and at first it was really easy but after a few days it became boring and I kind of got sick of it because I don't like what I'm eating and these are not the food I grew up eating so I don't find comfort in them, and every time I would have to cook or make something to eat, I would just get sad. That is not what I aimed for, so I sit and thought to myself again, what went wrong and it hit me that this is not my culture. I did not grow up eating a bowl of salad on its own rather I eat fresh vegetables with sides of Malaysian dishes.
So to make things more enjoyable and doable for me I decided to make this sustainable meal challenge for myself while sticking with my Malaysian root and it has now been 3 months of me practicing sustainable eating and it has not been boring or repetitive rather it encourages my creativity and that has been keeping me going ever since. So here are the things that I do to practice sustainable eating!
On Wednesday we don't only wear pink, but we cut out meat.
So before my week start, I usually do meal planning and map out what I will be eating for the whole week, so it would help me with buying groceries and I won't have to sit in the kitchen for 3 hours just to wonder on what to cook. And when I was thinking of what to buy, I decided to dedicate one day to just cut off meat. It is not a drastic change into cutting my meat intake because your girl here loves her fried chicken and steak at times. Therefore, I thought it would be a great idea into making small changes instead. So if plan to make curry that week, on Wednesday I would swap out the meat with tofu, eggplant or aubergine, tempeh (a splendid soy-based food famous in Indonesia), or cauliflower depending on what I feel like having for that particular day. As soon as I started this practice, I noticed that there are so many other options on where I can source my protein from rather than meat. Adding on with the fact that I can switch it up every time and this made my cooking taste different every single time just makes me look out to what other potentials is there to my cooking. It has now been three months and I have gotten used to my rhythm of not having meat on Wednesday. It is definitely worth a shot for everyone to try. Small but impactful!
Eating clean and eating healthily is not just good for your body but for the planet.
Ever since I came here I was so surprised over the fact that healthy eating is so much cheaper as compared to in Malaysia. So what I did was, I incorporated a lot more vegetables and fruits into my diet and my cooking. Authentic Malaysian dishes often times don't require much ingredients to begin with so the colour can be a bit pale-looking and when I add a lot more vegetables into my dishes, my plate now looks so lively and more colourful. Besides, vegetables do taste good and the different colour pallet really does stimulate your appetite. Sometimes I like to take a few seconds to admire how pretty my plate looks before I dig in. Sometimes I am just too hungry to do that and just eat and regret about it afterwards. However, the point here is eating healthily is really not hard, just incorporate a little more veggies into your cooking and your body and mother Earth will thank you!
"…eating healthily is really not hard, just incorporate a little more veggies into your cooking and your body and mother Earth will thank you!"
Create your own cute herb garden.
When eating sustainably people often think way too big and aim to grow everything on their own, down to the vegetables but not necessarily! It is great if you do have the space and time to grow your own vegetables but if you do not have the resources then a cute and small herb garden would suffice. I am not much of a plant person because ever since I was little, everything I tried to grow in our lawn would often face a slow and painful death. Regardless of how much love and effort I put into it, it just won't grow and it made me sad every single time! So this time I thought maybe I should try growing some herbs again, but this time I am older and maybe I know how to properly care for it, and just as I hoped for it did work! There are plenty of options if you would like to try and grow your own herb garden and there are stores that are already selling it in pots and all you have to do is take those bad boys home and start caring for it and if it grows well just repot them up! However, I didn't do that. I planted herbs that are close to home and herbs that I grew up eating or are very authentic to Malaysian cooking and some of these herbs can come off very pricey at the store so this is one of the best ideas that I have done. I chose to pot chillies, centella asiatica, cilantro, chives, java water dropout and my favourite herb, basil. Doing this has definitely helped me cut down on costs while being sustainable. A perfect combination if you are a person who cooks a lot!
Trying leaning for only RSPCA approved poultry.
Whenever I do shop for meat or poultry at my local supermarket, I tend to choose only RSPCA approved poultry. This is because when choosing this, I am well aware that the chicken comes from a farm where the birds are raised according to the RSPCA's detailed animal welfare standards. It is important for us consumer to understand the reason why we should support a cause like this. Eating sustainably also means sourcing our food from sustainably farmed poultry. Here I provided a link if you would like to have a further read on what does RSPCA do and what we as consumers can do.
Support and buy from locally produced products.
Back in Malaysia, my mom and I would always go to our favorite farmer's market on the weekends to shop and support our local businesses. Back then, I didn't know that by buying from our local farmers, it meant we are making a step into eating sustainably. So I thought that why not do it here as well? And that is exactly what I did. Every weekend, I go out with my housemates to our nearest farmer's market and we buy our produce from there. Not only do you get much fresher and sometimes even cheaper product, but you also get to see the familiar friendly faces that sells you your produce. I have had the best encounter with the farmers that I buy from. So you see what is there not to like? You get to see a friendly face and you get to buy fresh produce and you are sourcing from sustainably grown farm! Here are the list of farmer's market that are available on weekends here in Brisbane. Check them out sometime.
Minimise waste in kitchen.
Now this is something I am still in the process of adapting and learning myself, getting used to minimising my waste in the kitchen. One of my way in reducing waste is to avoid things with unnecessary packaging and because I buy most of my produce from the farmer's market, that is a step that is not too hard for me but there are instances where I can't avoid plastic wrapped products but I am trying to find an alternative to that by buying from bulk stores instead. So maybe one day I might even go zero waste. Another thing that I try to do to minimise waste in my kitchen is by cooking the almost expired food quick. Often times when I am out or recipe, I do the infamous Malaysian 'Nasi Goreng' or friend rice and just chuck everything in there and add a couple of things for that authentic Malaysian taste and voilà, nothing goes to waste and you have a belly full of tasty and easy home-cooked meal. Also, I sometimes do keep my eggshells to be used as a fertiliser for my potted plants. What a way to reduce waste!
Cook at home rather than buying takeout's.
I know us students sometimes when the semester comes to an end and everything gets a little too overwhelming we tend to not have the time on our hands and the temptation to buy takeout's and just end the day by eating rather than worrying about cooking just seems so nice. However, I can assure you that a warm bowl of chicken soup or freshly grilled aubergine with homemade sauce over a bed of rice requires you less than 30 minutes to make. Coming to Australia I did not know how to cook at all and I did not have the luxury of opting for takeout's too often so I had to force myself to learn to cook and surprisingly, cooking is now a hobby of mine. I now find it so therapeutic to be in the kitchen and taking my time to cook up something after a long day of university and I just want some comforting food to wind down to. Everyone has to start somewhere, and I can guarantee you that cooking is not very hard if you give it a shot. Remember, every little thing we do to make the Earth a better place to live in, counts!
So you see everyone, eating sustainably is not too hard if you give it a shot. In fact, I am pretty sure some of us are even doing half of what I just stated without even knowing that it is a great step in being a much more sustainable person in terms of what you consume. So, I implore you to give these small tips and tricks that I have done a shot and tell everyone around you to give it a shot too! Like I stated earlier, even the smallest of steps count.