How to have a sustainable Christmas?
HO HO HO! It is almost the end of the year which means Christmas is coming soon. Christmas is one of the most favourable holidays for most of us and often spend enjoying quality time with families and friends, but do you know that it is also one of the most wasteful holidays of each year? Every year in Australia, the amount of waste we produce increases by 30% at Christmas, nearly 5 million tonnes of food go straight into landfill, and we get through about 150,000 kilometers of wrapping paper that is enough to wrap around Earth's equator nearly 4 times. Hearing this is shocking to me and I have started to reflect on my previous Christmas.
Christmas is my favourite holiday, still remember when I was young me and my family bought a huge Christmas tree and decorating with all the sparking balls, hung up the fairy light, and putting the star up high. I love the feeling of Tearing and ripping all the wrapping paper out of my gift is it the most exciting part to reveal my gifts, and of course, we can't have a good Christmas without a big meal. These are all my favourite memories of when I was young.
However, behind the bright side, our action has created a huge negative impact on the environment. People are still buying single-use plastic, paper wraps, non-recyclable artificial trees, and gifts often shipped at great distances which creates carbon footprint. And the worst part is at end of the holiday, people are throwing tons and tons of waste into the landfill. Landfills in particular are a huge contributor to global warming because as the materials put into landfill decompose, they release methane. It makes me realise the necessity to increase awareness of the issue. Therefore, I made some changes to my further Christmas and want to share a few tips with you to reduce waste in a creative way.
Here are 4 sustainable tips you can do during Christmas for a more healthy environment for your family and friends.
————————————————————————————————————————————–
Present
let's first talk about gifts, have u ever received a gift that you don't like? The funny fact is many of us do. Reports have shown that Australians spend around $11 billion a year on Christmas gifts however, over 20 millions of Aussies said they have received unwanted gifts at Christmastime.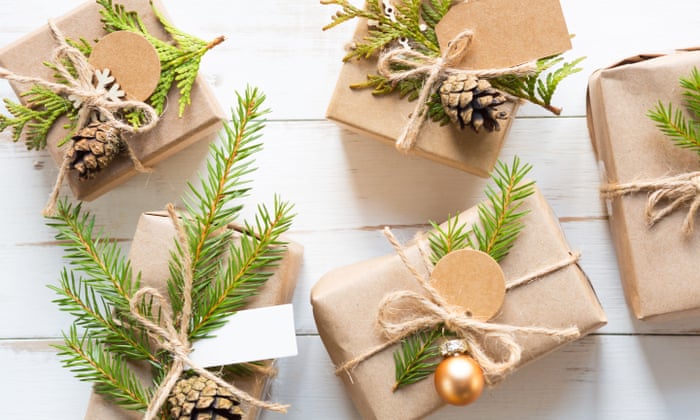 When buying present, we need to look at quality not quantity. Instead of buying several cheaper, short-lived gifts and ending up in the trash. Consider spending that same amount of money on one main present or giving an experience instead of gift. This is a great way to make memories together and bring people together. For example, like, bringing your loves one to do something they love, like baking class or a ticket to the movies. The other thing we should look into when purchasing is material of the produce. Ensure the material are recyclable and keep sustainability in mind. Buying second-hand items like vintage clothes and furniture are also great ways to gift more sustainably as it saves on resources.
2. Decoration
When it comes to decorations, I make sure of the materials that can be recycled and whether they can be reused. I've got a plastic Christmas tree that I bought long ago which I'm not necessarily proud of, but I've had it for years and I will continue to have it for years. So, it is not just going into landfill. I will keep it for as long as I can. Besides, instead of buying decorations, we can make our own. We can upcycle spare material in your home (e.g. plastic bottles, newspaper, box) and DIY your tree decoration with your family. This a great family activity while being innovative and supporting sustainability.
3. Packaging
packaging, the best is to reduce waste even further by buying gifts with little or no packaging. I know many of my friends love shopping online, which is convenient, for sure. But it always comes with unnecessary bubble wrap, Styrofoam and plastic. Shopping in your local shop can reduce packaging. With gift wrapping, we need to Avoid plastic ribbon, tape, and unrecyclable paper (e.g. Foil-backed and glitter paper). You can try a Japanese method (furoshiki) of wrapping presents in fabric or a towel, it makes beautiful and reusable packaging.
4. Food waste
Lastly, over shopping, cooking. Christmas food waste is a common problem where most households will prepare excessive numbers of dishes and end up in the bin. It is crucial to plan ahead and be realistic about how much food you need to buy (e.g. should I buy the bigger turkey or smaller, will 10 people finish two cakes?). It is always tempting in the supermarket during Christmas with all the hot bargain deals but try not to be tempted and only buy what you really need to prevent leftovers. However, leftovers are unavoidable. It can be turned into incredible new meals. At my home we always save the leftover for the next day, to avoid any food going into the bin.
Conclusion
Now knowing more sustainable tips during Christmas, there is high hope and reason to believe Christmas can be both highly sustainable and also incredibly enjoyable. Just being conscious of reducing consumption and using substitution products can make a massive impact to the environment. So, what are you waiting for? Start making changes for next Christmas!
Reference
Arnold, N. (2020). What Does Christmas Do To The Environment?. Retrieved 13 October 2022, from https://junkee.com/christmas-waste-environment/283188#:~:text=The%20statistics%20are%20really%20quite,whole%20of%20Australia%20six%20times.
Cathcart, F. (2019). 9 ways to reduce waste over the holidays. Retrieved 13 October 2022, from https://www.oregonmetro.gov/news/9-ways-reduce-waste-over-holidays
How Much Australians Waste At Christmas Time. (2018). Retrieved 13 October 2022, from https://nationalstorage.com.au/blog/christmas-waste-australia/
Top tips for a sustainable Christmas. (2022). Retrieved 13 October 2022, from https://www.wwf.org.uk/top-tips-sustainable-christmas#:~:text=Think%20about%20materials%3A%20Look%20at,Organic%2Dcertified%20food%20and%20clothing.