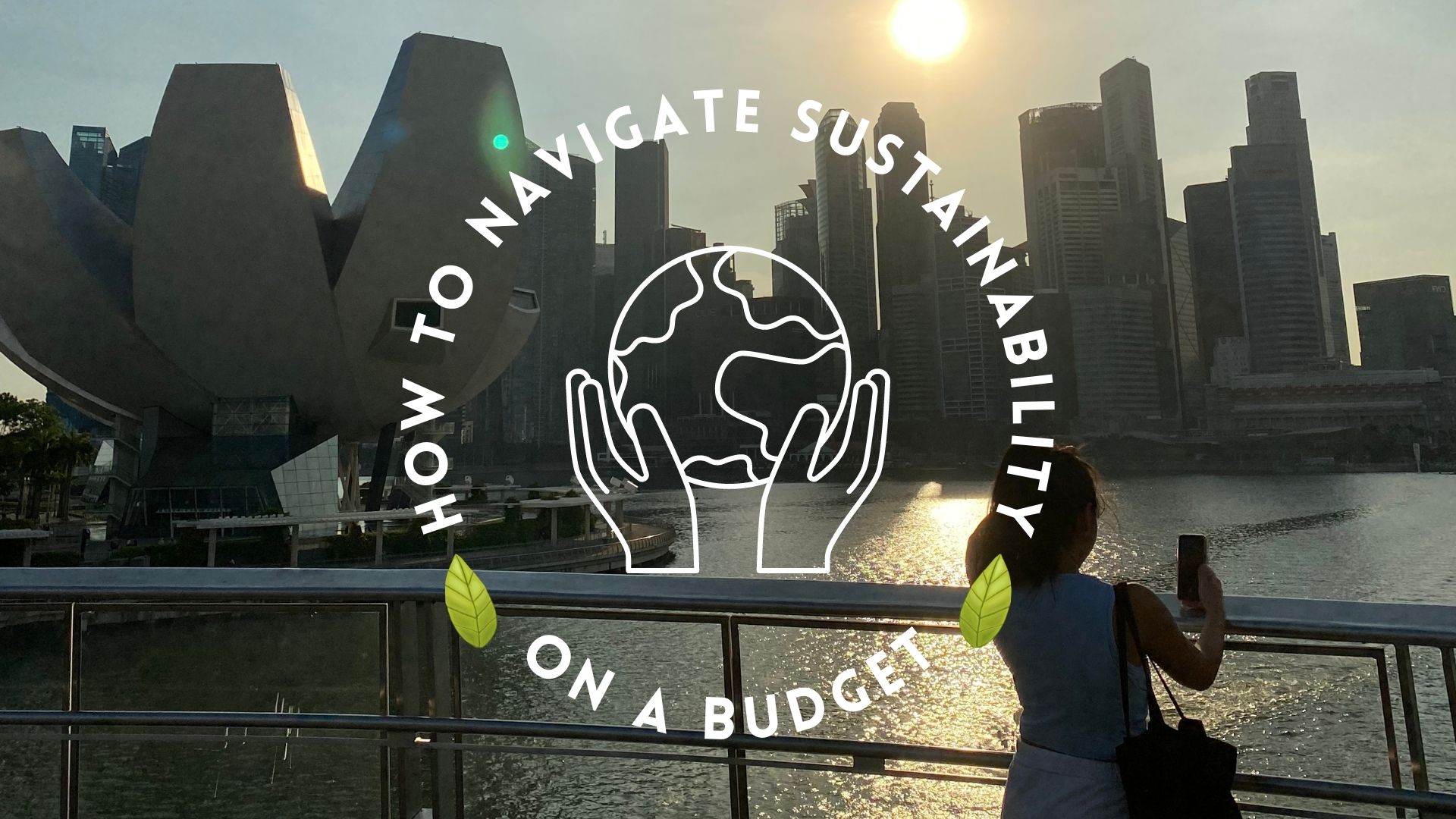 How to Navigate Sustainability on a Budget – Singapore Edition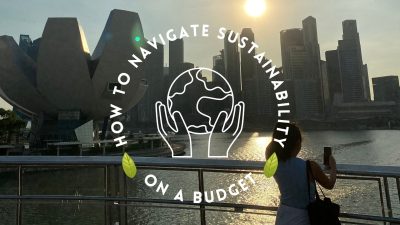 It can be conflicting when deciding whether to purchase the more sustainable but violently more expensive brand on the rack or bulk buying several outfits for just a quarter of the price. This is just one of the decisions that students like myself on a budget go through on a regular basis. With our generation being the champions of climate change activism and progressive culture, it can be internally conflicting when you are torn between your own morals, peer pressure and what's financially realistic for you.
Well, I am glad you are here. If my time as a student living in one of the mot sustainable cities in the world (Singapore!) has taught me anything, it was how to live frugally. Here, I share with you my top sustainable hacks whilst overcoming the internalised pressure of sustainable consciousness.
Singapore is established as one of the 20 most carbon efficient countries according to UN's Sustainable Development Report, and generates 95 per cent of its electricity through natural gas. Singapore is a clean city; pollution is limited and the country has even implemented cleanliness through laws such as fines for consuming chewing gum.
Being a 20-year-old intern on a monthly salary of $1,000 and surrounded by older, more established individuals, it was difficult not to feel the pressure when it came down to living sustainably. To top it off, the agency that I interned at advocated sustainability in their initiatives which were also well reflected in the client campaigns and PR programs I worked on. How could I be working for a company who is all about implementing sustainable practices when I couldn't even afford to? An example of the internalised pressure I faced was that I didn't want to wear cheaper clothes that could be easily identified as 'fast-fashion' or cheap even though it was what I could afford. There had to be a way I could work around this dilemma and establish myself as a sustainable member of the company and community without having to break the bank or greenwash my way to success.
Below, I discuss some of the ways in which I learnt to become sustainable in Singapore as an intern in hopes that this may inspire you if you are facing similar pressures regardless of the urban environment you are in.
Opting for public transport instead of ride share. One thing about Singapore is that it is a walkable city! Cars are expensive and in a city of almost 6 million people, traffic can be a pain. Public transport is convenient and accessible for everyone. However, I can easily say I have taken way too many unnecessary ride shares during the beginning of my stay. With the help of public transport apps I could plan my journey and predict the cost of my travel. Although, public transport can take longer than travelling by car, it allowed me to develop good time and organisational skills.
Opt for pre-loved clothing. I have always had a deep love for fashion. Although affordable, fast fashion and its long-lasting impacts on the environment are not. However, realistically for me, shopping at fast-fashion brands was definitely a lot healthier for my bank account, and when I was trying to juggle living expenses, worrying where my clothes came from should have been the least of my problems. This was until I cam across 'Carousel', Singapore's equivalent to Facebook Marketplace. From here, I was able to find good quality, timeless and branded second-hand pieces for a fraction of their retail price! Some of the brands included Realisation Par, Djerf Avenue and Bec + Bridge. I was also able to use the app to sell some of my clothes and items that were still in good condition.
Takeaway containers. Funnily enough, plastic has never been so abundant before. Eating at local hawker stalls for meals are very economical – even more economical than cooking your own food from the supermarket. I also loved the fact that by buying from local stalls I was helping out the local Singaporeans. However, almost every takeaway container, cup and straw was made with non-biodegradable plastic. To avoid any unnecessary waste, I decided to invest in a reusable cup and lunchbox container for vendors to pack my food into. I was also able to strike a deal with store owners by getting items for cheaper if I brought my own food packaging!
Take part in group activities. Although Singapore's city is extremely clean, it is a different story when it comes to their waterways. Singapore is home to one of the greatest ports in maritime trade. The country is the focal point for over 200 shipping lines with links to more than 600 ports worldwide and is the busiest port in the world in terms of shipping tonnage (Singapore MPA, 2022). If you were to ever take a glance at their waterways it isn't hard to notice the amount of pollution swimming throughout their ports. This is why I started to volunteer on my free weekends to work with the Waterways Watch Society. The organisation offered multiple, fun ways to get involved such as by participating in a clean-up by bike, pedal-boat, or kayak. It was also a great way for me to meet new people with similar interests and passions about environmental responsibility.
Changing grocery shopping habits. There have been many times where I have bought fresh produce from supermarkets like Cold Storage and Fairprice only for me to use half of my purchases and leave so much wastage. Therefore, my flatmates and I came up with a plan to do a household shop. Instead of shopping and cooking individual meals we would plan weekly dinners that we could have as a household. Not only did this help split costs and eliminate waste, we were also able to save on our monthly electricity and water bills. We also realised that many of the fresh produce in supermarkets are pricey due to most of them being imported from western countries. Hence, we collectively decided to travel slightly further on the weekends by MRT to visit the wet markets. The wet markets offer local fruit and vegetables as well as fresh seafood. We were able to freeze the seafood and make use of the fruit and veg that we bought throughout the week.
I hope this blog post has sparked some ideas for you to help bring sustainable practices into your daily life even when you are on a tight budget! As long as you believe that you are continuing to find realistic ways to better your carbon footprint, there is no need to feel anxious or compare yourself to another individual's sustainability journey.
References:
Singapore MPA. (2022, October 6). Global Connectivity. Retrieved from Singapore MPA: https://www.mpa.gov.sg/maritime-singapore/what-maritime-singapore-offers/global-hub-port
United Nations. (2018). Towards a sustainable resilient Singapore. Singapore: Ministry of Foreign Affairs.