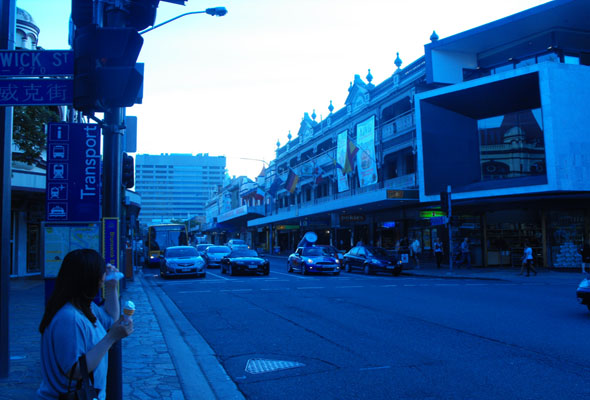 Kaliber rolls with the punches
Claudia Bordini, owner of veteran nightclub Kaliber, dishes the dirt on violence and versatility in Fortitude Valley.
Nestled in the heartland of Fortitude Valley, few clubs enjoy a dichotomy of eminence and notoriety quite like Kaliber Boutique Lounge & Dining. This bar is a mainstay on the clubbing scene in Fortitude Valley and so assumes a frontline position on the ever-growing debate over alcohol- and drug-fuelled violence. Claudia Bordini has been the proud owner of Kaliber for six years and has been privy to the changes that this historic part of Brisbane has undergone.
"If anything, it's gotten better," says Bordini, a Milan native whose Italian heritage inspires a certain edgy atmosphere in the establishment. "People are just really talking about it [the violence] more … I wish you could tell me why, because I can't figure it out."
Indeed, pressure storms have been circulating at a state and federal level in regards to clubbing-related violence following the death of 18-year-old Thomas Kelly on 7 July this year. The death, caused by a single punch in Sydney's infamous Kings Cross, has prompted outrage and calls for tougher liquor licensing laws. It's a call Bordini knows all too well.
"In 2008, liquor licensing started getting tough. Got tough with the venues, got tough with the security companies and got tough with the cops. I wouldn't say we [management] rebelled, but we turned around and said, 'Hey mate, it's all well and good to give us all this white picket fence strangling us, but hey, look around, 70 per cent of the shit happens in the Valley – it doesn't happen in the clubs'."
Bordini says this most recent devastation, and the reaction it has garnered, is another example of the wrong people being blamed for an unrelated incident.
"I think we – or they – start overreacting. They start overreacting when you take a tragedy, a very unfortunate tragedy that happened a thousand kilometres away on the street, and you try to pin it to a Valley club. Sorry, tell me that's not overreacting."
As a longstanding member of the Valley Liquor Accord and one of the only independent nightclub owners left in Fortitude Valley, Bordini is no stranger to the more local violence that can put the media in a frenzy. Just a matter of weeks ago she was the victim of a wayward assault from an intoxicated person who'd been refused entry. The incident was featured on the cover of the Sunday Mail, acting as a timely reminder of how public these instances of violence have become.
"I remember days where people actually got knifed in the middle of the mall," explains a nonchalant Bordini. "Just here. And it wouldn't be anything to write on about. Someone got knifed? Okay, sweet. Now I get punched and I end up in the Sunday Mail."
War stories aside, programs such as the Drink Safe Precinct, an initiative by the former Labor government, provides a multi-faceted arsenal of anti-violence measures such as bolstered police presence, CCTV usage, Chill-Out zones and increased public transport. While the incumbent LNP government has renewed the program on account of its apparent success, club owners such as Bordini believe co-operation is ultimately responsible to minimise risk of harm to patrons.
"I think it's a mutual effort … the cops are around a little bit more than they used to be, and Liquor Licensing went down pretty hard on security companies as well. So now that guards are a lot more alert, you also have those two components."
Fortitude Valley is not only in the news of late for its politics and crime reform; the area is undergoing a massive cultural shift, with many new developments underway as well as droves of vibrant, pristine cocktail bars opening shop in the shadows of more historical, somewhat dated establishments. This marks the inevitable hegemony of an upscale clientele over the Valley's traditionally alternative scene. Bordini, however, is not fazed by the changing landscape.
"It's the principle of evolution," says the club owner matter-of-factly. "When things change, when the climate changes, you either evolve or you die. So it'll hurt people who can't adapt."
Bordini says she is anchored by the nightlife philosophy with which she managers her bar, famous for its cheesy but irresistible 80s – 90s tracks and hallowed dance floor.
"It's about having a good time. The average person works five days a week. His wife hates him. His boss is a shit. He goes out to have fun."
Kaliber does not discriminate on clientele; it was the first bar in the Brunswick street area to allow the admission of neck ties back in 2008, prompting others to follow suit.
"It might be a barrister breaking loose or just a uni student having a good night – doesn't matter."
When asked about the future of Kaliber in the face of these hurdles, Bordini gives a passionate answer that is befitting an establishment keeping its cool in today's volatile environment. An answer from a club owner who literally got back up after she'd been knocked down.
"You're asking if I'll be around in ten years? Couldn't tell you. You're asking if Kaliber, the formula for Kaliber, will be around in ten years? Hell yeah."