Porn no taboo for youth
Society is becoming increasingly fascinated by sex and it's having great consequences for youth.
[media-credit id=79 align="aligncenter" width="590″]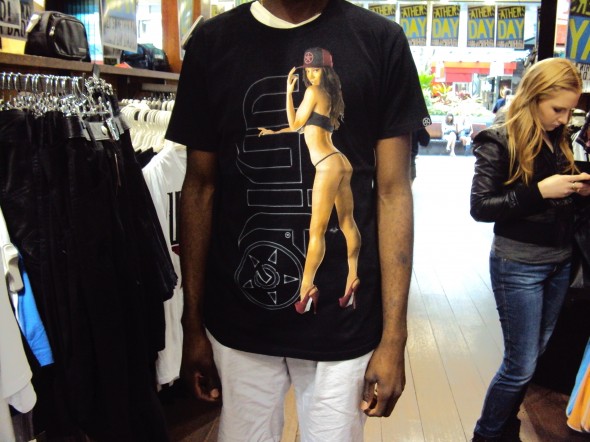 [/media-credit]
One of the many t-shirts that feature provocative imagery.
Sex is everywhere; there's no hiding from it. And with society increasingly submitting to porn culture youth are being forced to grow up too fast.
Porn culture is society's growing fascination, distribution and acceptance of porn and lesser sexual content associated with it. This offending trend can be seen in advertisements, magazines, artist music videos and lyrics, on T-shirts and even children's toys.
Caitlin Roper of grassroots campaigns movement to stop the media and marketers objectifying women and girls, Collective Shout, recently told The Age that it was almost impossible to avoid the sexual material that is so freely available in society.
It is a fairly new societal phenomenon that has set tongues wagging and sparked heated debate. The Stop Porn Culture Organisation is made up of  people from all walks of life fighting against the sexual exploitation of women, with a strong focus on pornography. Megan Robinson is an active member of this group and explains, "Ten years ago you would never hear anyone talking openly about their porn usage … let alone even admitting they watch it."
Mrs Robinson also argues porn culture is hugely detrimental to youth, which comes as no surprise considering one of the most popular children's toys on the market for girls is a high heel, fishnet, short skirt wearing and midriff baring Bratz Doll. "Children, especially young girls … will imitate what they think is the 'in' thing [and] right now that thing is sex," she says, adding that kids were growing up much faster. "Kids are beyond their years in sexual knowledge and experience."
Three years ago the Australian Standards Bureau approved the removal of all Advanced Medical Institute billboards promoting "longer lasting sex" after receiving an overwhelming amount of complaints from the public. This fight may have been won, however, others are not so successful. Mrs Roper's bid for City Beach to scrap male t-shirts featuring soft porn images was turned down.
While aborting all adult content accessible in public seems like a losing battle, the Stop Porn Culture Organisation has had several advancements, "on Tuesday, the London City Council Library approved our recommendations to put a pornography filter on all computers," a proud Mrs Robinson said.
She also says that, "children are losing their childhood and becoming sexually active at a much younger age," as a result of Porn Culture and that despite the difficulty. "It's a fight that needs to be fought."
While they are amongst the age group most targeted by sexploitation according to Mrs Robinson, university students were unanimous that there is far too much sexual content in society and the media, and it is showing in the way youth portray themselves and behave. Have a listen below.