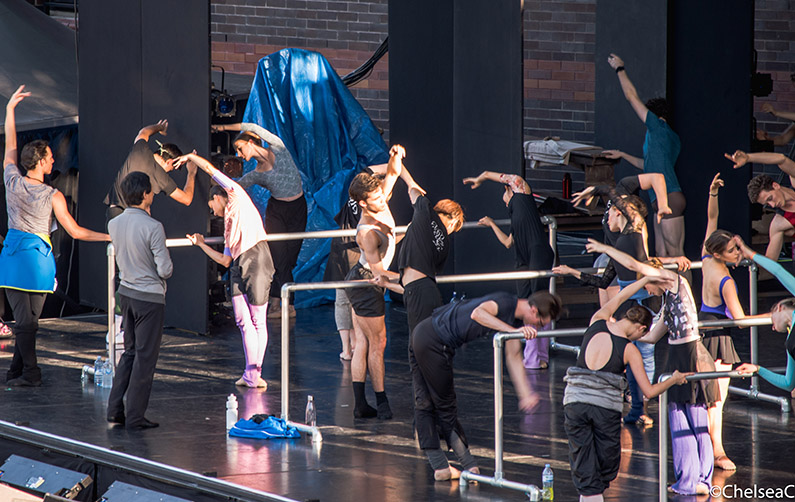 QB Swan Lake- An evening of dance for all
A night of ballet under the stars. It's a concept that sounds enticing, maybe even a little foreign. But Queensland Ballet knows how to do it right.
Brisbane's Riverstage was filled with a crowd of 5000 on Saturday evening for Queensland Ballet's free performance of Swan Lake. From ex ballerinas to young families, the outdoor amphitheatre was filled with audience members sitting on picnic rugs and enjoying a relaxed evening of dance. For some, it was another opportunity for them to witness the company on stage, but for many others, it was their first time attending a ballet performance.

Audience member Victoria had never been to a ballet before, and secured her tickets on impulse.
"I just randomly saw the performance advertised in the newspaper one morning, and I just decided, why not," she said.
Lisa, a mother of three, had also never attended a ballet performance. She booked tickets to the event as a surprise for her youngest daughter.
"This is her dream. She's always wanted to see Swan Lake," Lisa said.
Over the last few months, Queensland Ballet has been mindful about reaching out to the general community in order to expand the diversity of their audiences, and this free event provided them with the perfect opportunity.
"We've always wanted to do free performances for the general public," Artistic Director Li Cunxin said.
"We are so glad we could present this performance… we wanted to give something back to the community".
The casual, open aired atmosphere made the event just as exciting for many of the company's loyal fans, providing a breath of fresh air from the well-established QPAC, where many of the company's performances are usually held.
"[Ballet] always involves being dressed up and in a theatre, so this is a new experience," said Samantha and Joanne, who have been supporting the company for many years.
"The Riverstage makes it very nice and relaxed… it's very Brisbane" Sharna said, who attended the performance with her daughter Izzy.
The company ensured that the crowd was engaged from the moment they entered. Prior to the main performance they got a taste of what was to come, with audiences having the opportunity to watch Li lead the company in a class on stage. Those who were feeling active then participated in ballet lessons during a "Ballet Moves Experience", and a 15-minute meet and greet session allowed hundreds of young fans to line up and get autographs from some of the principal ballerinas.
At 6:30pm, audiences were greeted on stage by Li Cunxin, who expressed his excitement for the performance in the open aired arena.
"You know what I love about Queensland? The fact that our dancers can perform in this idyllic, beautiful location."
"I hope tonight brings you closer to our art form."
The starry sky may have had something to do with it, but the performance itself was magical. The dancing and costumes were exquisite, with a light breeze ruffling the feathers on the swan costumes and bringing them to life.
"I like the [company's] quality of the costumes, I also enjoy how well they perform the technicalities of the dancing," said one audience member.
The crowd's engagement was even more magical. When the lights went down and principal dancer Yanela Pinera took the stage as Odette, the crowd was silent. Yet, at the completion of the performance, all 5000 viewers cheered with enthusiasm, something that would have been frowned upon in a usual theatre setting.
Audiences were delighted with the performance, and many expressed their wishes for the company to present more free, outdoor events in the future.
"I want this to happen more often. It's a really nice way to introduce people to ballet. Especially in this casual setting, it's not as scary," said audience member Mindy, who watched the performance with her friend Ryan.
Although it is uncertain when their next free performance will be, there is no doubt that Queensland Ballet will continue to welcome members of the wider Brisbane community to their performances with open arms.
To find out more about the company, visit https://www.queenslandballet.com.au/
Chelsea Clark is a third year journalism and communications student at the University of Queensland. Majoring in Digital Media, she has a strong interest in storytelling across various mediums including photography and video production. She has interned at a number of well known Brisbane organisations such as Brisbane Writer's Festival and Queensland Ballet. In her spare time she enjoys taking street and landscape photography and playing tennis.