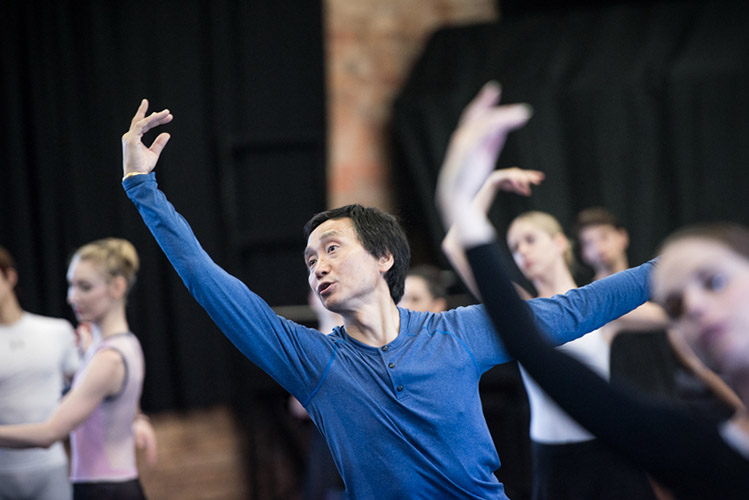 Queensland Ballet-Ambitious and Dreaming Big
For the longest time, Queensland Ballet was a small ballet company. They had 35 dancers and 60 staff members and were making around $2.4 million at the box office every year. When former ballet star and best-selling author Li Cunxin became Artistic Director in 2012, the company underwent a complete transformation.
"I was part of the training program when Li came in 2012. You could feel everyone working together, working to improve. It was all about building the company from the ground up," says Samuel Packer, Company Artist.
"When you join this company… you really feel that everyone is being pushed. It's a really positive company, everyone has a great work ethic," says Josie Frick, a Young Artist within the company.
Queensland Ballet now employs 52 dancers and around 120 staff members, with more dancers and staff coming on in 2020. At the end of 2017, their box office income increased to $5.3 million dollars. But these figures aren't the only representation of the company's growth. Li says that their standard of performance has drastically changed for the better.
"The growth over the last six years has been phenomenal," he says.
"Before 2012, the company wouldn't even dare to dream…they couldn't have possibly done any of the major productions they've done because they didn't have the capacity or the ability."
Li's contribution to Queensland Ballet has had a drastic impact on both the company's artistic capabilities and their business endeavours. They have become one of the most successful ballet companies in the Asia-Pacific Region, and have self-generated an impressive 79% of their income. They are halfway through a very successful 2018 season, having recently completed a noteworthy run of La Bayadère, toured Swan Lake through regional Queensland, and premiered their original production of Synergy. Their ongoing 2018 season is just a small snapshot of the company's elite performance history, with previous productions including Peter Pan, Romeo and Juliet, and Strictly Gershwin.
The current production of Cinderella has already sold over 14 thousand tickets, with the company hoping to reach 95% of their total audience capacity, or 18,500 seats, before it closes on September 15.
Cinderella holds a special place in Li's heart, as it was the first Western ballet that he ever saw.
"I am just pleased I can bring a special ballet like this to our dancers and for them to experience the magic, as well as for our audience to witness and experience this special ballet," he says.
The dancers have already experienced the magic in rehearsals, rehearsing 10am to 6pm seven days a week.
"I love the process of [learning] Cinderella because is a very easy to watch ballet. It's comical. It's easy to enjoy," adds Josie.
Queensland Ballet is also striving to expand their audience reach. Ballet is often perceived as high-art, only enjoyed by those in high-cultured society. This common perception is a reason why members of the wider community are hesitant to attend more complex productions such as La Bayadère and Giselle.
"People might see the name La Bayadère and not recognise it so they won't be as willing to attend," says Samuel.
"They would much rather go to a ballet that is the safe option, because they know the story and can understand it from watching."
Queensland Ballet's main sponsors and backers are derived from the older, newly retired age bracket. However, the classic fairy-tales such as Peter Pan, Nutcracker and Swan Lake have brought in a whole new generation of younger fans.
"We see a lot of nationalities, age groups… we have brought a lot of families in," says Li.
Li is determined to expand ballet dance culture to members of the wider community.  The company has recently introduced a number of community initiatives, including Twinkle Toes for younger dancers, a class exclusively for seniors, and a class specifically catered towards Parkinson's patients and their carers.
"It doesn't matter what walks of life you come from, what background you come from, there are no language boundaries… Ballet is an international language through movement and emotion… through dancing," he says.
"People often think that ballet is girls on pointe wearing tutus, that ballet is for girls…I would like to break that."
The company's upcoming one night only production of Swan Lake has the potential to break this stereotype.
Swan Lake is a ballet that is on "everyone's minds and lips". The company's most anticipated production of the year, the free performance will be held on October 20 at Brisbane's Riverstage. Li says that the inspiration behind this performance was to give back to the Brisbane community and provide a show for those who can't usually afford tickets.
The allocations have already sold out, with five and a half thousand tickets secured in just four hours. According to Li, this demonstrates that there is a high demand for Queensland Ballet in Brisbane.  If he had it his way, the company would put on a free performance every year.
Li is positive that his legacy will form a strong foundation for the next generation to come.
"Six years ago… a lot of people had their doubts. But now people are not laughing at us, they don't doubt us."
"These days, nothing is impossible."
Queensland Ballet's production of Cinderella will run from the 7th until the 15th of  September at the Lyric Theatre, QPAC.
Visit https://www.queenslandballet.com.au/ for more information. 
Chelsea Clark is a third year journalism and communications student at the University of Queensland. Majoring in Digital Media, she has a strong interest in storytelling across various mediums including photography and video production. She has interned at a number of well known Brisbane organisations such as Brisbane Writer's Festival and Queensland Ballet. In her spare time she enjoys taking street and landscape photography and playing tennis.