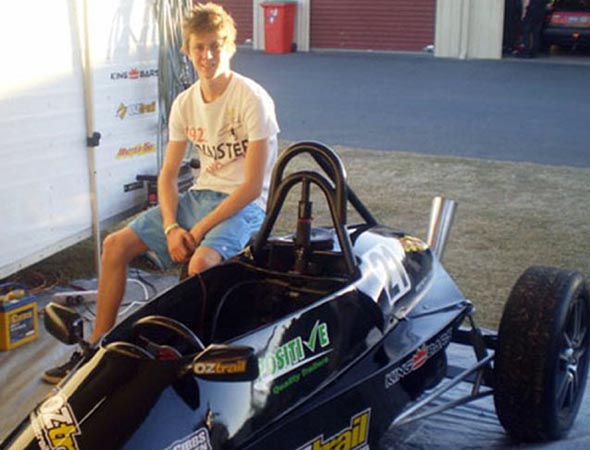 Racing past "Thorny" start
Kayne Thornhill is not your typical young racer trying to make a living doing what he loves most
Kayne Thornhill is not your typical young racer trying to make a living doing what he loves most: competing wheel-to-wheel with rivals. He has plenty of motivation, ambition and talent, as you might expect.
What you might not expect, however, is that he lacks the wealthy background that most racing stars are blessed with; one which many of his counterparts boast, meaning that the Queensland 2011 1200cc Formula Vee champion has always had his work cut out to succeed.
Originally from Canberra, just 20 minutes from Mark Webber's hometown of Queanbeyan, Thornhill always had an interest in motorsport, which was soon strengthened by the arrival of his step-father, an ex-New Zealand stock car champion, to the family.
Even before he made his debut aged 11 at the now defunct Gold Coast Kart Club in 2005, his strong work ethic and desire to race was evident.
"[When] I was about 10 years old, I was working all around the streets doing everything, earning $5 here, $5 there and ended up matching [dollar-for-dollar] with my parents for my first go kart and that's where I started," Thornhill recalls.
Despite the kart having seen better days, he was still able to demonstrate his talent with regular podium finishes.
Thornhill continued to show promise and gather sponsors, and at the start of the 2011 season he moved up into the Formula Vee class, a popular development series in many countries, through which famous drivers such as Niki Lauda, Keke Rosberg and Larry Perkins have come. That campaign provided Thornhill with the two best moments of his career to date: his first race win in the category and the Queensland state championship, all in his first season in the class.
"[The championship] came down to the final race. It was unbelievable to cross the line in first place for the final by a pretty good margin.
"Another one of probably my best moments was my first win in Formula Vee and that was in the wet at Lakeside at round two." After starting third on the grid, he made the most of a good wet weather set-up to take the chequered flag 35 seconds clear of second place.
However, the early stages of his transition into the 1600cc Formula Vee class this year have proved difficult – a mechanical failure ended his first race weekend of the season virtually before it had started.
"We've had a lot of engine issues so far. We've put in all this time and work and money and effort, and it's been really hard to even get the car on track."
Further problems meant that the team headed into round two with a virtually untested car. In another prime display of his talent, Thornhill drove impressively to qualify in seventh in a field of 25, before more mechanical troubles put an end to what had been a strong race. Unfortunately, engine problems cut short his participation in the season's third and fourth race weekends as well.
So what lies ahead in the future for the 18 year old?
First, a warning: Don't be fooled by his friendly and unassuming manner – Thornhill is competitive and passionate, and is ambitiously sizing up one of the biggest stages in international motorsport.
"I would say NASCAR is the ultimate goal," Thornhill reveals. "It's definitely the most realistic goal in my situation.
"I'd love to race overseas, even in open-wheel class. I really like the open-wheel class, but I think stock car racing in the States would be pretty much the ultimate dream because you have that many cars, that many teams, and there's that many fans and the sport is just absolutely thriving over there."
Thornhill and his small team are doing everything they can to ensure that he can become one of the few to make the cut in high-level professional racing.
"We are working around the clock, trying to find new sponsors, but as the economy is at the moment it isn't as easy as it used to be, from what my step dad has been telling me. But I mean, if the sponsors are there and we're still working as hard as we are at the moment, I think it is an achievable goal."
Those close to Thornhill are confident that he can convert his successes into bigger opportunities.
"Of course, if himself and the team keep up the work and get the backing required to race overseas there is no reason why this can't be a reality," says his mother, Jodie Anderson.
"We are all behind him."
Few Australians have made successful transitions to racing careers abroad. Daniel Ricciardo's international success, most notably making his Formula 1 debut at just 22 years of age, undoubtedly would have provided fresh hope for many local youngsters wanting to make it big.
One advantage Thornhill holds is that he already has an opportunity overseas lined up, through links between his major sponsor Oztrail and former NASCAR racer Ron Barfield, who now owns a NASCAR track in the US.
The Gold Coast racer is wasting no time in taking up this experience, with plans to begin testing towards the end of this season. If all goes well, he'll be taking extended trips to race in the US next season.
Thornhill recognises his international status could well prove beneficial to his NASCAR chances.
"Me being an international driver, that's probably one of the best things … it gives me an advantage picking up sponsors because there's a lot of American drivers racing cars, if [a NASCAR team] can pick up an Australian driver over there, I probably might be able to pick up a bit more sponsorship and have a bit of leverage there."
Sponsorship has always been crucial for Thornhill. Many other young racers, like Ricciardo, have been able to move up the through the ranks quickly thanks to substantial financial support from cashed-up families, whereas Thornhill's progress through classes has often heavily relied on funding from sponsors.
"If it wasn't for my sponsors I wouldn't be anywhere in the sport because from what we've had to do so far this season it is really expensive. And this is Formula Vee; it's quite an affordable race class."
While finances might not be on his side, Thornhill makes up for it by operating with the same high work ethic that he had shown in his earlier days.
"I've been training probably about 20 hours [a week], that's just personal fitness – and then you're doing work on the car. So far this season the amount of hours we've put in I can't even say, it's just not from myself, the team as well.
"It is probably 90 per cent off-track which is what gets you the results. I mean you need to know how to drive [the car] on-track but you need to make sure that everything is covered off-track because you can't afford to have a mechanical failure on-track."
On top of racing and working, Thornhill studies a Bachelor of Commerce full-time at Griffith University. Despite accepting that things might potentially not work out for him as a professional racer, his immense passion for the sport remains clear.
"I'm balancing out racing and uni pretty well so if worst comes to worst hopefully I'll still be able to pick up a pretty decent job. But I'd always love to be around the motorsport scene even if, worst comes to worst and I don't make it big, racing is something I'm always going to have in my life and as long as I'm kicking I'll still be at a race track as many weekends a year as I can."
For the moment, it's all about trying to salvage what he can from a seemingly doomed 2012 Formula Vee campaign.
"The goal for now is just focusing on getting the car 100 per cent ready for nationals. I mean we'll still do what we can in the state rounds. But realistically it would be nice to have a good result [in nationals] in October at Wakefield Park down in Goulburn."
Only time will tell whether Thornhill becomes one of the majority, who's racing careers full of potential go down the drain seemingly unnoticed, or one of the minority who manage to scythe through the crowd to make a professional motorsport career. If character and determination are anything to go by, the signs are looking good for Thornhill to become one of the latter.