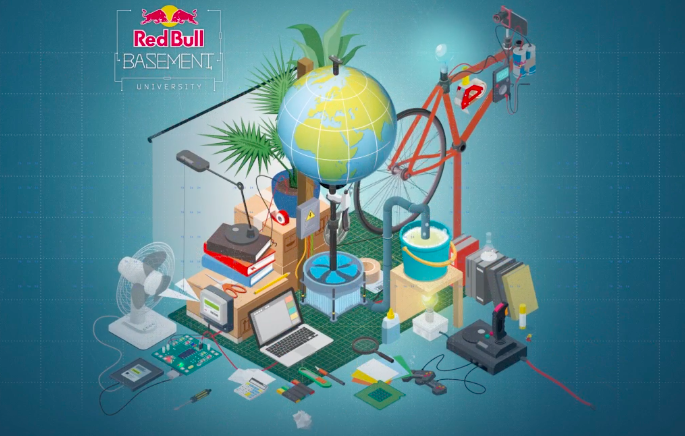 Red Bull Basement University – currently taking applications at UQ
Red Bull Basement University offers a collaborative platform for university students who want to use their technology skills and knowledge to solve problems at and around their respective campus.
It seeks to connect and inspire students, the next generation of innovators, who aim to challenge the status quo, innovate, collaborate, drive change and improve life on campus and leave a lasting social and environmental impact through DIY-based, positive technological applications.
Originally launched in Brazil in 2015, Red Bull Basement was created to facilitate and enable skilled hackers and coders who aim to use technology to help solve social and environmental problems in their city. The focus then expanded to tackling broader societal issues, using modern tools and technologies to stimulate more active and conscious communities. Now, the project draws from 16 countries and over 300 universities.
Show Red Bull your best and brightest tech ideas and they'll help your idea achieve maximum impact through an integrated network of development, workshops, mentorship, and funding.
The project is based on four different phases throughout the year:
Application
Voting/judging
Development
Global meeting
First, you just have to fill out an application form here  and submit a 60-second video detailing your project idea. 

Full rules and requirements can be found on the website's Terms and Conditions.
*You must be over 18 years of age, residing in a participating country and currently enrolled in a participating university.
Applications can be submitted individually or in groups of up to 2 students. More members can collaborate on the project, but only 2 selected representatives will introduce and pitch their project at the Red Bull Basement University Global Meeting in Berlin at the end of the year.
The judging panel are looking for any projects that use technology to solve and improve social and environmental problems on campus, or surrounding student life.
Potential areas include:
Sustainable consumption
Inclusive education
Sanitation
Security
Accessibility
Student empowerment
Housing
Examples of projects of interest to the panel:
Student empowerment: an app to democratize decisions on campus through a voting feature
Housing challenge: an app that helps students find accommodation that fits their needs and budget
Food sharing app: a social app that simultaneously aims to decrease food waste on campus and connect people
The selection process will take place between October 22nd and the 25th.
During this time, all eligible ideas will go through the local voting phase which lasts 5 days. In this time, students from participating universities can vote on their favourite ideas, narrowing down to a pool of top-voted finalists. The voting link can be accessed here.
Once the finalists are determined, Red Bull's judging panel will select just one winning idea to move on to the next development phase.
The criteria to evaluate the projects are:
Feasibility
Impact
Creativity
If your idea is selected, Red Bull will provide basic funds, international mentorship by top experts from various fields, as well as networking opportunities and a fully-equipped workspace for 30 days.
The winning project will then be flown to the Red Bull Basement University Global Meeting held in Berlin, from November 29th until December 2nd, with participants from 16 different countries. This is a 4-day event with workshops, mentorship sessions and a final pitching competition for selected participants and their projects.
Applications close this Sunday the 22nd of October, so get your ideas in quick if you want a chance at attending a life-changing 4-day event in Berlin… and if you want to drive social change and improve student life for everyone.
Ciara is in her third year and final semester of a Bachelor of Journalism at the University of Queensland. With a passion for social justice, she is committed to producing quality journalism that informs and educates the mass public and promotes social change.