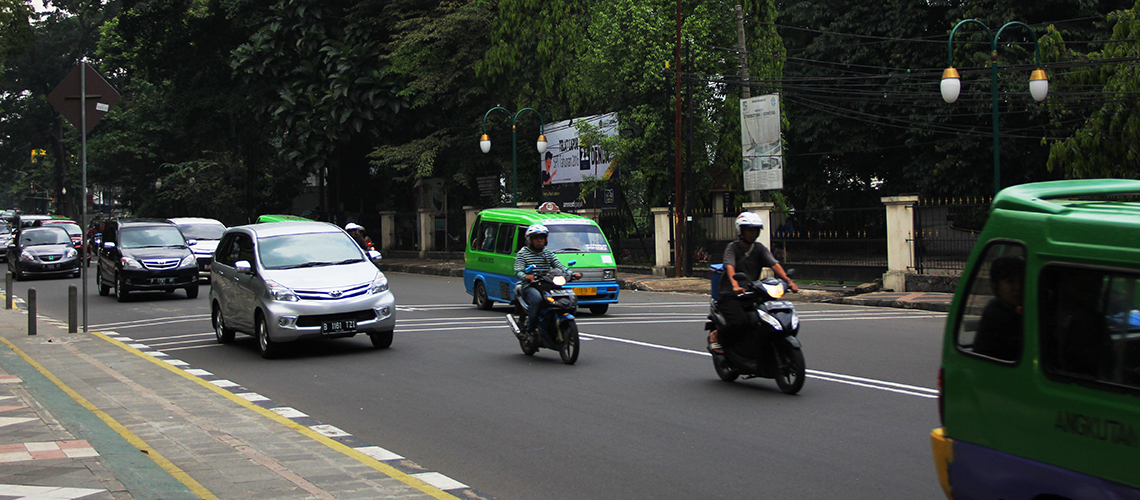 Road Safety in Indonesia is a work-in-progress
No lanes, no seat belts, no traffic lights and for drivers in Jakarta, no worries.
With some of the most lenient road safety laws and enforcement in the world,  Indonesian road death rates continue to rise but Indonesian road users don't look like they will be changing their habits anytime soon.
In Indonesia, the driver and front passenger must wear a seat belt, motorcycles are allowed to carry one driver and one passenger and vehicles must drive on the left side of the road. These are the rules but they are seldom followed by the thousands of road users in Jakarta.
A rapid increase in road users, especially motorcycle drivers, as well as little-to-no road safety enforcement and poor infrastructure means a lot of drivers in Jakarta take the road rules into their own hands. It is not uncommon to see three lanes of cars slowly rolling over the two lanes drawn on the bitumen or average pedestrians directing traffic in return for a couple thousand Rupiah.
As is common in most countries, Indonesian residents over the age of seventeen can apply for a licence and are required to sit examinations for that licence. However, according to the locals in Jakarta, the issuing of licenses is not controlled very tightly and it is much easier to buy a license, avoid the lengthy processes and start driving without any prior experience.
Once people are on the roads, it's a flurry of swerving and beeping, all in the pursuit of getting there first. It does not matter where "there" is, everyone in Indonesia is in a hurry to reach their destination without regard for other drivers and pedestrians. The Road Safety Association of Indonesia says this is a systemic cultural issue. According to the Association, Indonesian drivers lack respect for the rules and the drivers around them, and this results in chaotic roads with the potential for accidents.
A study by the World Health Organisation in 2013 showed that the rate of road related deaths in Indonesia increased over the previous decade, with 36 per cent of deaths involving motorcycles. This research found that over 30,000 people are killed each year by road accidents in Indonesia. The report came two years after the implementation of a national road safety strategy, the Integrated Road Safety Management System.
According to the Traffic Police Corps of the Indonesian Republic who help enforce this program, the aim of the plan is to reduce the number of road related deaths by 50 per cent by 2020. The program hopes to achieve this through actions such as "law enforcement for speed control using electronic devices, improved system for issuing drivers' licenses and traffic education from an early age".
With an increasing number of road users, slowly developing infrastructure like traffic lights and effective lane control and an ingrained driving culture, it will take considerable effort and resources to change the safety of roads in Jakarta, and Indonesia as a whole.
Meaghan Crooks is in her final year studying Science (Statistics) and Journalism. She aims to explore how science and society work together in Indonesia whilst testing her journalistic ability in a different culture and environment.