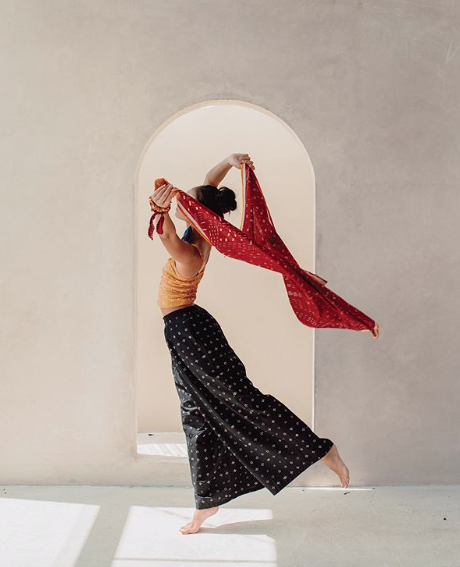 Sustainability in Fashion: Dreams of SukkhaCitta, SUKUHome and Sejauh Mata Memandang
Is sustainability in fashion really achievable? 
The problem with sustainability in fashion is deep-rooted in the nooks and crannies of its flawed system as a whole. Fast fashion today is notoriously one of the largest inhibitors of achieving true sustainability in fashion. Marie Claire (2019) describes fast fashion as cheap, trend-driven clothes and accessories 'ripped off' from major designers, made in high volumes at a low cost.
Fast fashion is not only guilty of stealing designs, but also extensive environmental damage and crimes against humanity. Where the problem lies is explained succinctly by Melissa Naatidingrat, quoted in an article by Forbes (2019):
A supply chain is its own ecosystem that must be sustained and supported indefinitely in order for the world to see true environmental impact. We must design, develop, and manufacture into that premise.
To her, true sustainability comes when the entire supply chain of the industry is sustainable.
One of the most interesting solutions to this problem is the creation of brands with business models that integrate sustainability in their core concepts. The amalgamation of distinct designs and commitment towards introducing sustainability to the industry are what distinguishes them from other brands.
Indonesia's SukkhaCitta, SUKUHome and Sejauh Mata Memandang, flourish from introducing new levels of consciousness, transparency, and mindfulness in fashion, for the planet.
How do they do it?
SukkhaCitta
SukkhaCitta centres their concept around improving welfare across rural Indonesia. With their tagline, #MadeRight, SukkhaCitta describes that their brand works with customers towards 'returning opportunities and pride to women' across rural Indonesia.
In fact, the brand claims that their establishment 'had nothing to do with clothes.' 
Upon travelling through rural Indonesia, founder Denica Flesch saw first hand how fast fashion is exploiting female textile workers and the earth as a whole. 
She found only 2% of all women working in textile production worldwide earn enough to cover their most basic needs. On top of that, fashion is the second most polluting industry on the planet. Thus SukkhaCitta was born.
Today, SukkhaCitta is involved in training and capacity building for their craftswomen in order to elevate their crafts and teach them business skills.
When we purchase SukkhaCitta's products, 56% of the proceeds are invested in training and building schools for these craftswomen. Because of this, SukkhaCitta is responsible for the 40% increase of incomes and livelihoods for over 100 families in rural Indonesia – 354 artisans and farmers and 1,282 people – within 7 villages across Java, Kalimantan, Bali and Flores.
In addition to that, the production of their clothes have saved over 1,000,000 litres of toxic water waste from entering Indonesian rivers through using natural dyes and zero waste practices.
In creating their garments, SukkhaCitta uses a signature raw cotton fabric, handwoven by weavers in Medono village, Central Java. Other fabrics they use are Tencel and Sylk from Lenzing AG. Their dyes are 100% traceable – cultivated directly by their farming coops or reclaimed from food or industrial waste. They use plastic free packaging, upcycled from their own scraps and training fabrics – all of which are hand made by their artisans in Medono. Their buttons are made from pearl farmers in Makassar, and labels in Yogyakarta, Central Java, Indonesia. 
They also have a free repair service, called #ReMadeRight, in order to keep usable fabrics away from landfills and minimize their carbon footprint.
SUKUHome
SUKUHome is a home and bedding wear line founded by Christine Lafian. In their website, SUKU claims that they are rooted in authenticity, sustainability as well as connecting their global community under ethical practices and shared experiences. To SUKU, it is important to work transparently and consciously.
The brand uses small scale production, working with local Indonesian artisans under fair trade practices. SUKU does this to support local Indonesian economies, cottage industries, as well as upholding Indonesia's textile traditions.
All of SUKU's products are handmade in their Studio, previously the workplace of founder Christine's grandmother, Henny. SUKU's team is a small community of Indonesian craftspeople and Balinese artisans. Their prints are dip dyed and hand painted, adopting the traditional Indonesian batik technique. 
SUKU uses environmentally friendly, ethically sourced organic materials including bamboo and rayon jersey, organic cotton and cotton poplin, wool and mohair. 
SUKU states that they are 'adamant to adhering' to Indonesia's strict waste disposal laws. They dye their fabrics using closed loop systems to recycle 100% of the water they use in processing. They also use less toxic synthetic dyes as opposed to natural ones. All their fabric scraps are used to make their packaging in order to avoid extra waste.
Sejauh Mata Memandang
Sejauh Mata Memandang describes themselves as a 'textile label with a production concept that takes into account their environmental and social impacts'. Sejauh produces clothing with long lasting and timeless designs.
Founder Chitra Subyakto explains, in an interview with NOW! Jakarta, that the brand is inspired by traditional Indonesian clothing such as Kebaya and Bodo. The designs are adjusted to present-day fashion, made to be more comfortable, dynamic and wearable for everyday wear.   
Sejauh adopts a slow fashion concept and works closely with their craftsmen, ensuring fair trade. The brand does not do any clearance sales in order to give back the profit that they make to the community. Sejauh uses natural fibers including linen, cotton and Tencel; combining technology and traditional techniques in producing their garments. The brand does not use fabric that contains animal skins and plastic such as polyester. 
In order to make sure that they use up all materials to avoid them ending up in landfill, Sejauh utilizes scrap fabrics into patchworks, masks, tumbler decorations, and sandals, among others. 
In addition to that, Sejauh also works to bring light to pressing environmental issues. In 2019, Sejauh created "Laut Kita", an exhibition showcasing installations, photography and documentary video capturing the plastic waste disaster in Indonesia.
Are they the solution?
The largest downside to these brands is that their products come quite costly. And, just like other smaller brands, they are also geographically less accessible than others. However, I personally think that these are investment pieces that can become great staples to your closet — especially with their unique adaptations of traditional Indonesian patterns and craftsmanship such as tenun and batik.
Here are a few tips that would help you in choosing brands like these over fast fashion brands:
Create a capsule wardrobe, consisting of staple pieces as well as unique, standalone investment pieces that capture your personality. There are plenty of YouTube videos on this.

Only purchase when you really need to – get to know yourself and what you like.

Resell the old clothes that you don't wear anymore. This way, you'll earn more money to purchase newer ones.
SukkhaCitta, SUKUHome and Sejauh are great examples that show how much applying consciousness, transparency and mindfulness is crucial for fashion brands in creating real, positive change to the planet. With ethical sourcing and practices, these brands strive to work towards achieving true sustainability through their chains.
Now, what do you think are the solutions to achieving true sustainability in fashion?
Sources: forbes.com, marieclaire.com.au, nowjakarta.co.id, sejauh.com, sukkhacitta.com, sukuhome.com