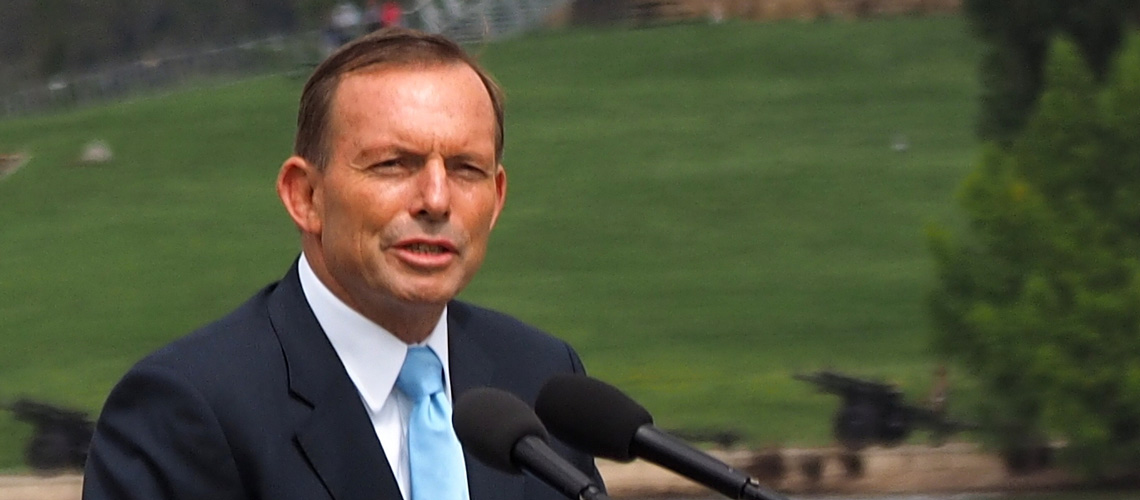 Former PM Abbott concerned over decline of prayer, rise of acknowledgement of country
Former Prime Minister Tony Abbott believes Christian prayer should have as great a role in public ceremonies as "Acknowledgement of Country" protocols.
Acknowledgement of Country protocols recognise Aboriginal and Torres Strait Islander people as the original custodians of Australian land.
Mr Abbott, who is the Special Envoy for Indigenous Affairs, made the comments on Thursday at the launch of Kevin Donnelly's new book, How Political Correctness is Destroying Education and Your Child's Future.
Referencing the opening of new Northern Beaches Hospital on Monday, Mr Abbott expressed concern that while each of the speakers paid respect to the traditional owners of the land before their speeches, none said a prayer.
"Every single speaker, and there was about six of them, acknowledged country," Mr Abbott said.
"Now I am sure there will be a lot of patients saying prayers in that hospital, but there wasn't a single official one – even though our society is absolutely unimaginable without the influence of Christianity."
At last, the Northern Beaches Hospital is open. Congratulations to Mike Baird, @BradHazzard, and @GladysB for making this happen. It was also good to be part of a federal government thats asset recycling initiative helped New South Wales start its infrastructure building boom. pic.twitter.com/H2Zd1semE0

— Tony Abbott (@TonyAbbottMHR) 19 November 2018
Mr Abbott went on to say he believed Christianity to be essential to Australian culture.
"I think it's fair enough that we begin the parliamentary day with an acknowledgement of country, but thank God, thus far at least, we haven't dumped the Lord's Prayer."
Mr Abbott also commented on political correctness in the Australian curriculum, echoing sentiments expressed in Dr Donnelly's book.
Dr Donnelly's book discusses how political correctness has undermined Australia's education system, arguing that "instead of an academically rigorous curriculum, subjects have been dumbed down and taught through a politically correct prism involving Asian, Indigenous and environmental perspectives."
Mr Abbott questioned whether these three perspectives should be involved in every aspect of the Australia educational curriculum.
"Now I have to say that I am all in favour of Asian, environmental and Indigenous perspectives. But are these really the three top priorities that should permeate every aspect of our curriculum? I doubt it very much indeed."
"This is not a question of trying to ram religious faith down people's throats, it's about giving people an understanding of culture."
The presence of Christianity began in Australia in 1788 with the arrival of the First Fleet.
Meanwhile, Aboriginals in Australia are the world's oldest living, continuous culture.
(Featured image: Wikimedia Commons)
Ana is a Master of Communication student at the University of Queensland. She is dedicated to reporting Current News, Politics, and Human-Interest stories.