UQ grad help endangered lemurs
Is living in a tent and recording the movements of lemur's what you pictured to do when you graduate? It is for one recent UQ grad.
[media-credit name="Richard Coombs" align="alignleft" width="590″]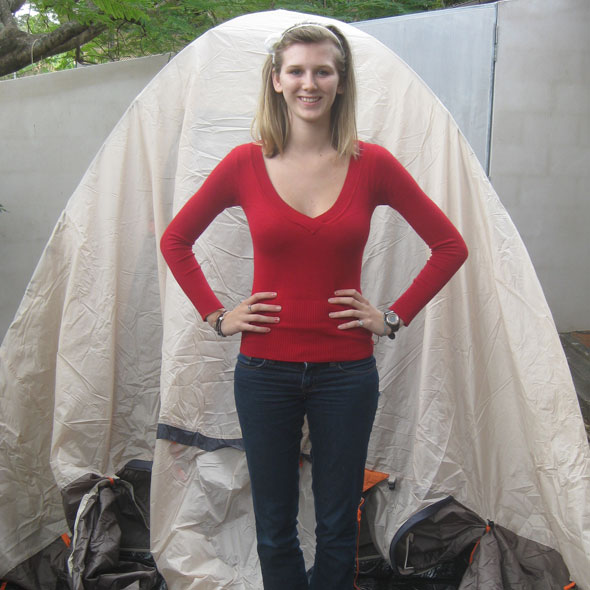 [/media-credit]
Eloise Stehenson standing infront of her home for nine months
Madagascar, a small island off Africa's east coast, is home to some unique animals.
The greater bamboo lemur is one of 400 lemur species on the island and up until 20 years ago, it was thought that this species was completely extinct.
After being rediscovered in only five separate spots on the island, these lemurs only feed on bamboo and as such are restricted to live where the bamboo is.
One big question then remains; if they have been isolated for so long are they able to mate and reproduce with each other?
Former University of Queensland student Eloise Stephenson, a Bachelor of Science majoring in zoology and ecology graduate, will travel to Madagascar to find out the answer herself.
Miss Stephenson will be one of two research assistants studying the Greater Bamboo Lemur, and one of only six research assistants in total.
The program is called the Madagascar Biodiversity Partnership and is run and funded by the Omaha Zoo in the USA.
Having being established for around 20 years, Miss Stephenson will spend nine months living at the research centre located in the heart of the Ranomafana National Park, in the south-east of the island.
"I'll be waking up at 6am every morning," Miss Stephenson said. "I'll go to one of the four or five existing colonies and with my list and follow one lemur for two hours.
"I'll be recording their movements every five minutes using an ethogram.  I'll do three follows a day broken up into morning, noon and afternoon."
Although they could build bamboo forests to connect the colonies, Miss Stephenson said there is not much point if they are too genetically different for reproductive purposes.
Miss Stephenson sees this as a magnificent opportunity as jobs for zoologists are hard to find.
"Once I graduated I wanted to stay in the loop so I signed up for the Journal of Conservation Biology," Miss Stephenson said. "Working holidays are a lot more common than jobs. I've done the working holiday thing and it was very advantageous for this.
"But I saw this job come up and I jumped at the opportunity because it was something a little more than a working holiday.
Admitting this opportunity will open doors, Miss Stephenson still doesn't know what she would like to do once her nine month posting is complete.
"There are four different avenues someone can go down. Research or teaching, both of which need more study, conservation work and the one I'm really interested in, wildlife rehabilitation. What I'd love to do is combine all four, which would be my ultimate goal."
Miss Stephenson leaves for Madagascar on Sunday.