Vintage fashion here to stay
Recent economic uncertainty has made shopping for second hand and vintage more acceptable within Brisbane.
[media-credit id=66 align="aligncenter" width="590″]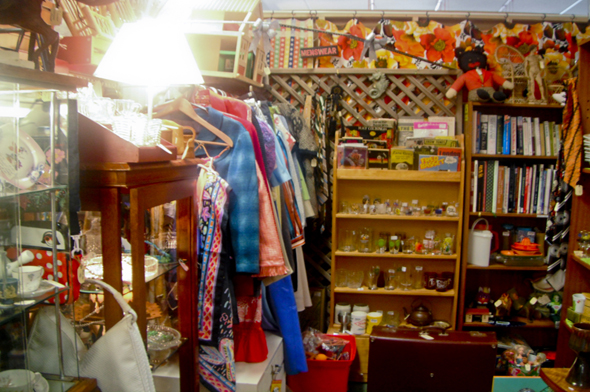 [/media-credit]
Vintage clothes at Woollongabba Antique Centre.
 Recent economic uncertainty has made shopping for vintage and second hand clothing in Brisbane more acceptable. 
Tamsin Blanchard defined second-hand and vintage in her popular book, Green is the New Black. The book explains second-hand or pre-loved is clothing, shoes and accessories that have been worn before. And vintage is a term used to describe second hand designer fashion.
Many Brisbane stores offer sustainable and purse friendly fashion alternatives for Brisbane shoppers. Local  Brisbane store Secondi sells both vintage and second hand clothing . The store has been open for 12 years and operates on a commission basis.
Secondi owner Gilly Campbell said, " Buying something brand new and wearing it once seems silly. It is wasteful. Buying pre loved has always made so much more sense."
According to journal article Waste Couture: Environmental Impact of the Clothing Industry, the fashion industry has a detrimental effect on the environment.
However despite this according to the National Association of Resale and Thrift Shops, sales at thrift shops are  growing at a rate of five per cent a year.
Local business A Pot of Tea Under a Tree, offers a sustainable fashion label and personal styling service.
Owner of A Pot of Tea Under a Tree, Louise Falzon organised and hosted the first bi-annual Under a Tree Clothing Exchange at New Farm Primary School earlier this year.
The Under a Tree Clothing Exchange supports Project Futures: End Sex Trafficking. Project Future is a non for profit organisation that is inspired by the story of former sex slave Somaly Mam.
"The Clothing Exchange is a fantastic opportunity for women to come together, get a new wardrobe  and most importantly make a difference to the lives of the girls and women in Cambodia," Miss Falzon said.
Other great places to find fantastic, cheap second hand or vintage clothes include; The Purple Bedroom in Fortitude Valley, Woollongabba Antique Centre, and Box Vintage in West End.