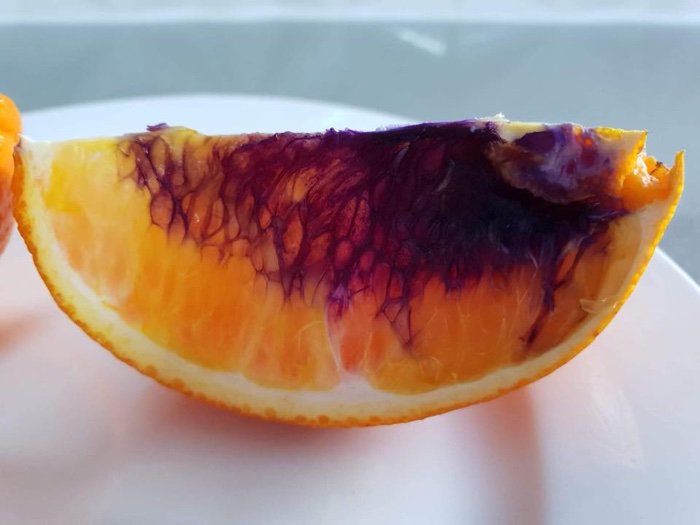 The bizarre Brisbane case of the colour-shifting orange
Keperra mum Neti Moffitt sliced an orange as a snack for her two-year old son and left part of it on the bench. Overnight, it mysteriously turned a deep shade of purple.
Ms Moffitt bought the orange at a local fruit and veg shop, and cut it up for her son that same afternoon.
The next morning, she was baffled to find that the orange had turned purple – with seemingly no logical explanation.
She dug into the rubbish and found the pieces eaten by her son were also now purple.
"My first thought – of course – was is my son ill? But he was completely fine," Ms Moffitt said.
"I just couldn't believe what I was seeing. The colour was so deep, so deep."
"It was quite literally as if someone had dipped it in an inkpad," she said.
Denouncing the sceptics, Ms Moffitt denied any tampering or involvement in the colour change.
"I don't own an inkpad – I can promise you I've had nothing to do with it," Ms Moffitt said.
"It's purely just a strange phenomenon."
After establishing her son was healthy, Ms Moffitt said she turned to Google, hoping to find previous local cases of purple-turning oranges.
She found just one.
In 2015, a Toowoomba woman had an orange turn a deep shade of purple after she'd sliced it. At the time, Queensland Health tested the orange and found no cause.
Ms Moffitt also contacted Queensland Health, who have begun forensic testing on not just the orange, but on the knife Ms Moffitt used to cut it, a lemon that was in close proximity to the orange on the bench, and a knife sharpener.
"They have promised me full disclosure on the test results," Ms Moffitt said.
"I'll be more than happy to share the results with everyone – if there is any."
Until then, the cause of the colour-shifting orange remains a mystery.
Ciara is in her third year and final semester of a Bachelor of Journalism at the University of Queensland. With a passion for social justice, she is committed to producing quality journalism that informs and educates the mass public and promotes social change.