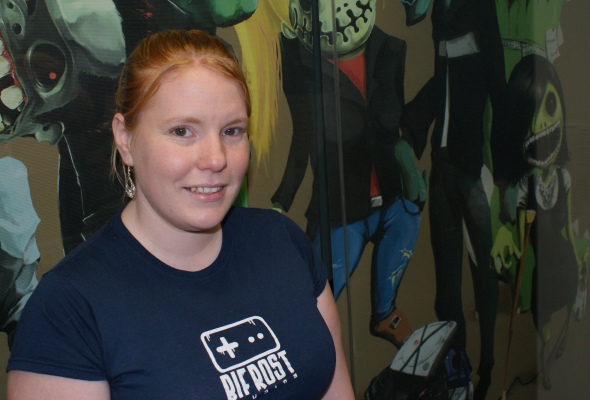 Young director keeps studio ahead of the game
Smart decisions are the way to survive in Brisbane's gaming industry and few know this better than BiFrost Studio director Dani Chaney.
Smart decisions are the way to survive in Brisbane's gaming industry and few know this better than BiFrost Studio director Dani Chaney.
Despite the closures of many gaming companies in Australia, Brisbane's BiFrost Studios in Adelaide Street, Brisbane, has managed to stay afloat in the current industry while averaging between 300-400 downloads per day for their most popular games Photon and Zombie Juice.
Dani Chaney was only 19 when she founded Vahalla Studios with a business partner in 2007. Since then, the company has been split, and under Ms Chaney BiFrost studios has been concentrating on mobile games for almost two years.
Ms Chaney said the key to the studios success is working to a rapid prototype and iteration business model.
"It's really simple actually, we just do mobile games," Ms. Chaney said.
The advantage of developing mobile games is the quick turnaround of three to six months, while AAA titles and console games can take years to develop.
"This model allows us to get ahead as we can tell quickly if something is not going to work and start doing something else," she said.
When developing a new game, the studio will prototype a few ideas at once, usually within a week, that gets them onto a device and allows the team to make an informed decision about which one they want to pursue.
From there, it only takes a few months for a full development cycle.
The fast development time for mobile games is one of the reasons BiFrost has managed to survive in Brisbane's dwindling gaming industry.
Four major gaming studios have closed in Brisbane within the past decade, and while there are many reasons – such as American based companies being crippled by the Global Financial Crisis or companies moving to countries where it is cheaper to develop – the major one is that they were creating AAA games that took years to develop, and could not identify bad decisions in the early stages.
"By seeing that mobile games were just about to explode, it allowed us to get out of the part of the games industry that was going down," Ms Chaney said.
"We started about six months after Angry Birds and Fruit Ninja came out – that was the kind of shift when people were starting to make mobile games," she said.
Ms Chaney said the popularity of mobile games comes down to accessibility and cost.
"Everybody can kind of access it, whether it's on your phone or on a tablet, and it's easy and cheap; 99 cents for a game that's going to give five or six hours of game time – that's nothing considering you'd go into the store and pay $110 for an Xbox game," she said.
For now, the future of Brisbane's gaming industry is stable, but that all depends on what happens with mobile gaming.
"Mobile games will start to become better quality for less money," she said.
"Players are looking for depth in their games so instead of that one dimensional swipe and kill kind of thing we did with Zombie Juice, you will start to see storylines and different characters and a bit of depth and meaning to it."
And the future is something Ms Chaney is particularly interested in.
For several years now, BiFrost has been running a successful traineeship program in association with local Brisbane schools and TAFE colleges.
"I didn't get my education – I didn't go to Uni – I got mine through a traineeship so I've been very passionate to kind of show kids that there is another way to do things," Ms Chaney said.
"I was one of those kids that just didn't sit still in school and that's what a lot of our kids are like. Some kids we get, the teachers have even given up on them, so I just want to show them that there's a different way and that you can learn on the job.
"Once they get here and they are engaged and here doing something and they can actually use their skills, they're great to have around."
The demand Ms Chaney received from local Brisbane schools meant that the program has grown from there – starting with only three trainees in the program's first year, then expanding to ten the following year and 30 in the next year.
"The studio's really energeic, we always have our finger on the pulse when it comes to 15 or 16 year olds and what they want," Ms Chaney said.
"And we get a lot of game testers!" she jokes.
BiFrost's development manager Adam Single says that despite the limitations of mobile devices, the idea that mobile games are showing a decline in quality is not the case at all, in fact, it's the opposite.
"The quality [of the games] is already getting higher and closer to console now; plus you're getting devices that are getting closer to console quality," Mr Single said.
"You've got the big companies that fall apart and these really talented people can't find work. Now you're getting this flush of skill and experience coming in and this really high quality we're constantly trying to aim at.
"We're a pretty young team so we've got this carrot dangling in front of us that we just keep trying to reach, trying to keep up and get people talking about us in the same space.
"It's not just graphics wise; the consumers are starting to look for more depth in what they're playing, so a lot of the really frivolous one-dimension games that used to keep them entertained don't any more.
"They still consider themselves a casual gamer but in many ways they're not casual gamers anymore; they're actually developing a lot of the traits traditional hardcore gamers have, where they won't play games that don't engage them on certain levels or don't have certain production quality," he said.
FULL EMBEDDED VIDEO URL: http://www.youtube.com/watch?v=yy-YQUu2Giw&feature=youtu.be